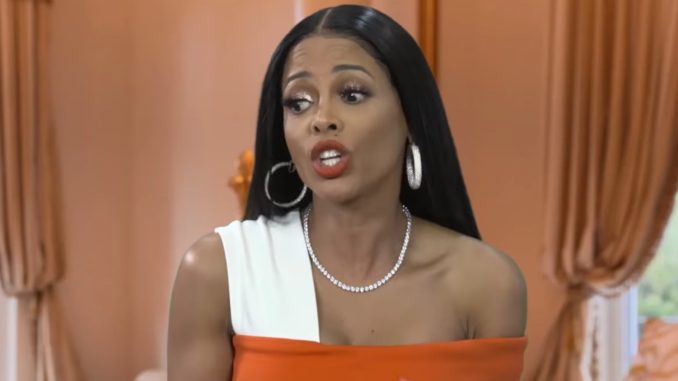 Celebrity Net Worth is throwing a little shade at new reality star and newlywed Keyshia Ka'Oir and her claim to have $30 million under her belt outside of Gucci Mane's money.
On last week's episode of The Mane Event, Keyshia sat down with a financial advisor to discuss the "overwhelming" profits she's seen from her two businesses. When asked "approximately, what would you say [are the] combined revenue for the two companies (Ka'Oir Cosmetics and Ka'oir Fitness)?"
"Probably, around $30 million", said Keyshia, to which the advisor proclaimed "wow!"
This estimate caused viewers to do a little digging to see if Keyshia embellished her income or if she's really raking in 8 figures for lipsticks and waist bands.
Though many question popular website, Celebrity Net Worth's credibility, as one of the only sites that keeps up with celebrity dough, it's often the only source fans have to go on when looking through their idol's pockets.
The site listed Keyshia's net worth currently as $10 million and questioned her claim of $30 million in revenue.
CNW says that number does not match the figures they've seen from Keyshia's financial records:
"On one of the early episodes of The Mane Event, Keyshia's financial planner appears to report that she has "profited $30 million" off her two businesses, Ka'oir Fitness and Ka'oir Cosmetics. The financial planner provided no evidence to back these claims up. It's not entirely impossible, but seems very unlikely based on the figures we have seen related to Keyshia's finances and the prospects of her businesses. We will continue to research and reach out to Keyshia to seek more clarity on her numbers."
Watch Keyshia discuss her 30 million-dollar businesses below: