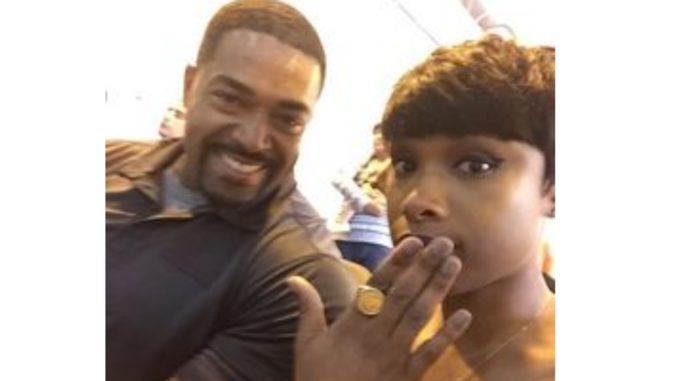 Jennifer Hudson received her request for a restraining order against her ex-fiancé David Otunga yesterday, according to reports.
Though not together, David and Jennifer continued to live in the same home and sleep in separate rooms for 6 months. After Jennifer's petition for an order of protection was approved, Burr Ridge Police reportedly showed up at their home and removed David in front of Jennifer and their son David, Jr. Both David and his attorney Tracy Rizzo were reportedly unaware of the restraining order at the time of his removal. If they were made aware, they would've appeared in court to combat Jennifer's claims.
Jennifer received her request for a restraining order after she called Burr Ridge police to their Illinois home for a "domestic battery incident". According to Jennifer's reps, David suspected Jennifer had moved on and started dating one of her music producers. On November 15, 2017, Wednesday night, Jennifer took their 8 year old son to a recording studio with her. David then instructed their son to scan the room with his iPad and send it to David so he could see if Jennifer was with another man. David then began sending Jennifer "threatening communications" and Jennifer alerted the studio's security that David may pop up.
When she returned home, David reportedly got physical:
Later that evening, Hudson said an "angry" Otunga confronted her at their home; a few of her team members witnessed the incident. He argued with Hudson in front of their 8-year-old son, so she told him to go upstairs to sleep in her bedroom. Otunga grabbed his son by the arm and took him upstairs to his master bedroom, she said. Otunga then pushed her with one hand out of the master bathroom, while holding his son in the other hand, she alleged in the police filing.

It was the final straw after a series of incidents, she said. During a recording studio session on Nov. 15, she claimed Otunga told their son, "Don't let your mom's boyfriend motherf–king touch you." Again, she said, "David mistakenly believes that I am dating one of my producers."
David denied Jennifer's claims, saying he was only angry that Jennifer had their son in the studio until 12:30A.M. on a school night and he was more concerned with getting his son in bed to have enough rest for school. He also denies ever pushing her.
Jennifer also claims David tried to intimidate with a gun by leaving it on the kitchen table for her to see. Jennifer reportedly says David knows how sensitive she is at the sight of a firearm, considering one was used to kill her mother, brother, and nephew in 2008.
David claimed it was a prop and said it was removed.
Jennifer requested that David not be allowed to own a firearm during the duration of her protective order. David and Jennifer's relationship started to go downhill around April 2017, the same time period Jennifer said in interviews that her and David were fine. Because the protection order prevents David from seeing Jennifer or their son, David asked the court to push their December 7th court date up to November 21st so he has a chance to spend Thanksgiving with his son.
Expect this Hollywood break up to only get worse.