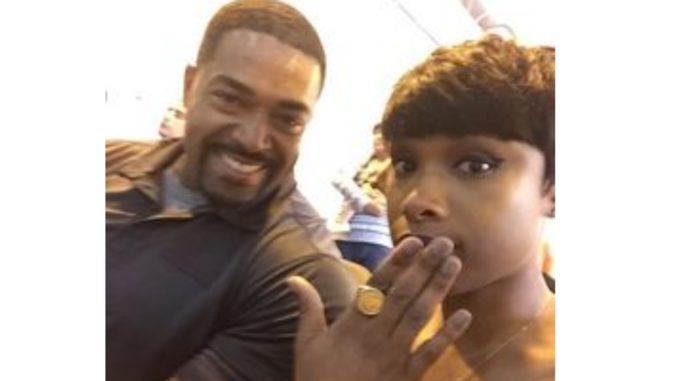 36 year old singer/actress Jennifer Hudson filed a restraining order against her ex-fiancé David Otunga.
His attorney says the filing is just a ploy to prevent David from receiving full physical custody of their 8 year old son, David, Jr. David and Jennifer secretly split up a few months ago, and according to David's attorney, David has been trying to reach an "amicable parenting agreement" with Jennifer for several weeks now.
When Jennifer saw David may be granted physical custody of their child, being that he's the primary caretaker due to Jennifer's career, Jennifer filed an order of protection to prevent David taking the child:
"[…] When it became apparent to Ms. Hudson that Mr. Otunga would be the parent granted residential care of the child, as a result of Mr. Otunga being the child's primary caregiver while Ms. Hudson pursues her career all over the world, Ms. Hudson decided to file a meritless Petition for Order of Protection in an effort to gain an unfair advantage in the custody dispute", said David's attorney, Tracy M. Rizzo in an exclusive statement to People Magazine.
"As a result of Mr. Otunga's career in the WWE, Ms. Hudson felt that she could give an award winning performance in court to portray herself as the victim. Mr. Otunga has never abused or harassed Ms. Hudson or their son, and it is unfortunate, especially in today's climate, that she would feel the need to make these false allegations against him.

Mr. Otunga looks forward to his day in court and in being awarded the residential care of the parties' only child".
David Otunga proposed to Jennifer over 10 years ago in September 2008. In their 10 year relationship, David has held Jennifer's hand through her professional and personal woes. The same year they got engaged, Jennifer's mother, brother, and 7 year old nephew were killed by Jennifer's brother-in-law, William Balfour. In 2012, when William was found guilty of their murders, David wrapped his arms around a weeping Jennifer in the courtroom.
David, a Harvard Law grad, was introduced to fame as a potential mate for Tiffany "New York" Pollard on VH1's I Love New York season 2. The soft-spoken lawyer was picked by Tiffany's mother as a contestant and was seen as the level-headed lovable guy who captured the heart of Tiffany and the respect of his competitors. Though he would not take home the "prize", he would relaunch a television career as a WWE wrestler.
David has since retired and worked as a WWE commentator. He also works as a fitness guru and actor, putting together film projects, starring his son.
Outside of being an award-winning singer, film and Broadway actress, Jennifer worked as a host for the UK's version of The Voice. Just months ago, both David and Jennifer seemed fine. When asked why they hadn't walked down the aisle yet, Jennifer reportedly told Ellen Degeneres "I'm not in a hurry", "he ain't going nowhere!"
That was in April. Fast-forward 7 months and it's restraining orders and custody hearings.
Expect this custody battle to get ugly.