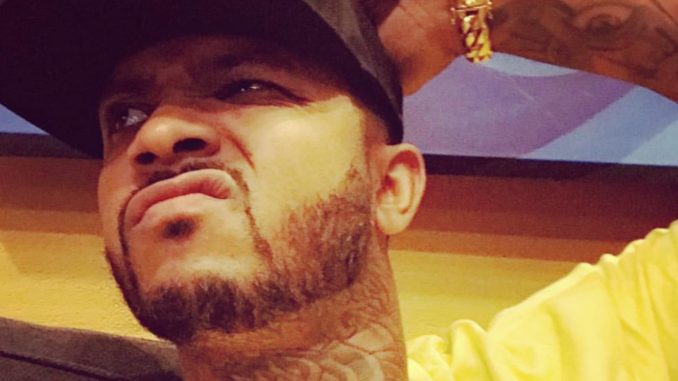 Black Ink Crew: Chicago star and 9 Mag owner Ryan Henry lashed out at his producers for how he's being portrayed on the show.
The first season, Ryan was portrayed as the hardworking yet easy-going egalitarian boss, but as the seasons progressed, Ryan's image has steadily become more "aggressive, disrespectful" and even "abusive".
That image was more prevalent than ever on last night's episode after Ryan's co-star Liliana pushed him in a swimming pool as a prank, and Ryan responded by breaking windows in their inside the vacation home, pushing his son's mother Rachel, and grabbing Lily's face during an argument.
Ryan's aggression this season was targeted towards the women in his tattoo shop, with meager disagreements between Ryan and his female employees ending in Ryan screaming obscenities at them.
Now, Ryan has had it with his show's producers portraying him as a monster and lashed out during a live video saying "fuck my producers!", adding he didn't care to be on his "bullshit reality show":
He also posted a picture of some of Chicago's hometown heroes, President Barack Obama and Chance The Rapper, saying he failed to give the city a good name as those 2 have done with their platforms:
"Yesterday… Please don't confuse what I feel personally with what you feel as a whole. I owe my city more. For that I apologize. My goals to interact with the youth, the homeless, the less fortunate, and the aspiring artists, I owe them/you all more.

I started 9mag with a goal of uplifting everyone around me selflessly. Watched it go to shit.

I started a show with the intent to grow everyone I was around and stay united forever. That died.

Took on a platform of BS to change views of my city to outsiders and do natives here justice, now it's become coonery based on failure, lies and faults. Which I want no part of further underlying emasculating of myself and other black men LEADERS as weak, abusive, disrespectful, etc, outside of humanly mistakes. Purposed doings with intent. So I apologize. And I will do better.

My actions, my foundations, my time and energy donated Where it should be. This pictute let's me know I'm not doing enough for my ppl to not have even known about it let alone invited to it if I was on my shit.

And I'm not. So here I come. Salute!"