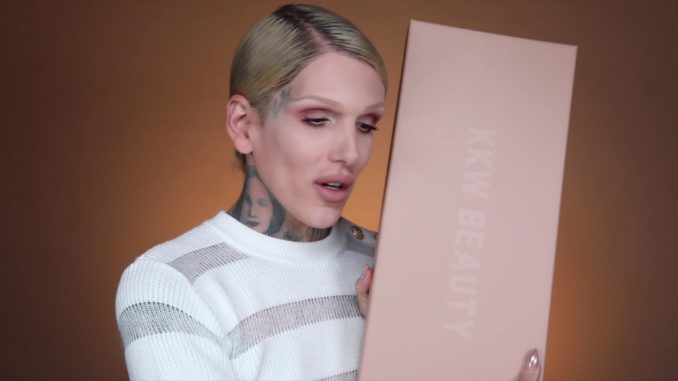 After retracting her statements for defending a racist, Kim Kardashian sent Jeffree Star a PR package containing a box of her makeup products the next day AND will continue to work with him.
So, her apology to her Black fans meant absolutely nothing.
Last week, Kim Kardashian showed off her new KKW highlight & contour packets by applying them on her arm, aka "swatching". Because Kim is not a makeup artist, she's not gifted in the art of swatching, resulting in her products looking chalky and sounding dry when applied to the skin.
Jeffree Star clowned Kim on Twitter for her chalky products, which prompted her fans to fill his Twitter mentions of reminders of his dark past. During a past beef with another makeup guru, Jeffree was exposed as a racist for the comments he made towards Black people. Jeffree's response: "it was 12 years ago, get over it".
While still trying to make a name for himself, Jeffree Star starred in videos showing off his makeup. After getting all dolled up, he'd go out for a night on the town and the camera would capture him harassing people of color. In one video, he continously referred a Black girl on the street as a "nigger bitch". In another, he called a woman an "ape".
Jeffree addressed these videos last year, saying he only made racist remarks in response to bullies. Jeffree says when he left high school a decade ago, there were no men like him wearing makeup on the streets, making him an easy target for bullying.
FUN FACT: men have dressed in drag and worn makeup as early as 3000 B.C. Rocking wigs, colored nails, makeup and other garb associated with the feminine gender was already widely popular on the same streets of Los Angeles that Jeffree Star grew up on long before he strutted down them in heels.
Jeffree also contributed the racist remarks to being depressed, saying now that he's in a happy relationship and has a successful career, he never has to venture back to that dark place.
Unfortunately, that dark place came back to haunt him in his mentions and were brought to light by Kim's fans, to which Kim told them she gets why "racial" (not racist) comments are a big deal, but people need to get over it.
After she got dragged by her own fans, she retracted her statements saying "I don't defend racists" and "I'm really, really, really, sorry" for telling Black people to get over racist comments. She also admitted to being "naïve" towards racism.
Fans weren't having it, because as a 36 year old mother of 2 half-Black children and the wife of her third Black husband, having countless Black boyfriends, and being a fan who appropriates Black culture, being "naïve" about racism is an excuse that just won't fly.
Just last year, Kim penned an open letter to her website on the deaths of unarmed Black men at the hands of police. She urged her parents to speak out against racism, even providing a link for fans to reach their local legislators and demand them to act.
For someone who claims to be ignorant on racism, she found a way to make herself part of a moment, a movement, that works to combat racism towards Black people: #BlackLivesMatter:
"I want my children to grow up knowing that their lives matter. I do not ever want to have to teach my son to be scared of the police, or tell him that he has to watch his back because the people we are told to trust—the people who "protect and serve"—may not be protecting and serving him because of the color of his skin", Kim wrote on her website.
Now does that sound like a woman who's naïve about the way racism affects her and her Black family?
The very next day after apologizing for defending a racist, she reached out to Jeffree privately, chatted with him on the phone, and sent him a PR package containing a box of her makeup for Jeffree to do a YouTube review of her products.
Despite Kim putting herself in the fire for Jeffree, Jeffree stated in his review that the product doesn't deserve the $52 sticker price and plugged a cheaper makeup product over Kim's.
He did say he liked her highlights tho.
Watch Jeffree review KKW highlight and contour product personally sent by Kim and address last week's mess below: