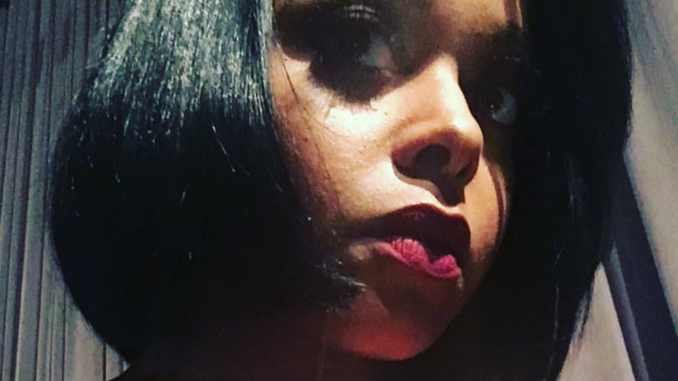 Soon-to-be blackballed singer Chrisette Michele details the days before Donald Trump's inaugural ball, her experience in Trump's house, and which celebrity's comments hurt her the most after performing for a room full of White supremacists. Watch Chrisette's performace below, where she is introduced as a "guest" of Gospel star today, Travis Greene:
Chrisette tells Billboard she has Black Panthers and Black civil rights activists in her family, some of whom are no longer speaking to her. She also explains having to cut her phone off and change her number after accepting the invitation to perform for Trump, due to the anticipated backlash from friends, family, and fans alike. Chrisette also walks us through the day of the ball, saying Trump wouldn't even meet with her to shake her hand and that when her team gave Trump's team her performance fee, they told her "well, we don't have that".
Peep the highlights below:
On The Day She Got The Call To Perform at Trump's Inauguration:

"When we got the phone call, and this may sound crazy, there was literally no hesitation. I turned my phone off. After seeing what happened to Jennifer Holliday, I literally turned my phone off because I knew if I was going to make any type of decision, I couldn't be swayed left or right by what anybody thought. I had to just go with my own convictions.

I changed my phone number also. I didn't even think to say no. It didn't cross my mind. The first thing I thought was that I have an opportunity to get in front of these people who don't seem to understand who they're talking to and show them what we look like. I felt automatically committed to making sure that I stood up for the women who've felt disrespected and the minorities who felt disrespected, communities that felt that they weren't being heard or understood.

I thought that it was almost my responsibility to not just say yes but to say yes with purpose, so that was my reasoning. And no, I didn't think twice about it."

On Backlash from Other Celebs and Being Disowned By Family:

"I'll start by saying that I have a lot of activists, a lot of people who are Black Panthers, in my family, I've got a lot of people who marched, and watching these marches and watching the older people in my family have to experience [these times] was, for lack of a better word, traumatizing.

I called my mom asking if she was upset by looking at [young people protesting] and I asked, 'How devastating is it for you to have to watch this?' And my mom almost gave me what I felt like was a blessing. She said, 'Now it's your turn.' And while I was so upset that I had to have a turn to do what she already did, I took that and ran with it."

"I'll say that the backlash, I did personally feel, came from members of my extended family who decided that they didn't want to speak to me anymore or support my family in supporting me. As far as social media goes, I didn't really look at it much.

The two biggest things that I did experience internally was two celebrities who I had much respect for: Questlove and Spike Lee. Those were kind of the two things that I took a look at."
Spike Lee removed Chrisette's song "Black Girl Magic" song in his upcoming Netflix series, She's Gotta Have It, in response to Chrisette performing for Trump. Roots drummer Questlove tweeted he would pay Chrisette to not perform for Trump.
See why Donald Trump was too busy to shake her hand on the NEXT PAGE.