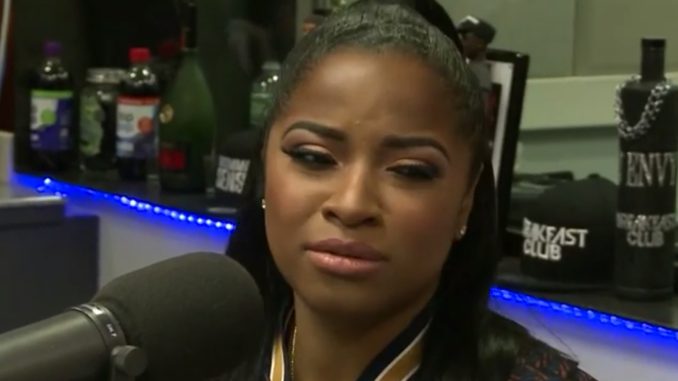 "When people show you who they are, believe them. I don't want a friend like that" – Toya Wright on Tamar Braxton.
Toya Wright stopped by The Breakfast Club to promote her new book In My Own WORDS…MY Real Reality and discussed her fall out with Tamar Braxton, Lil Wayne's text messages and wanting a second child with Wayne. She also discussed Wayne's recent comments on ESPN, saying he's never dealt with racism. Toya says that was "an ignorant comment to come from a Black man".
Watch Wayne's comments below:
Toya confirmed the reason Tamar Braxton unfollowed her on Instagram was because of Toya's appearance on The Real. Toya also confirmed the rumor that Tamar tried to block Toya's appearance on the show. Toya says she reached out to Tamar about appearing on The Real to promote her daughter Reginae Carter's MTV Sweet 16 episode and Toya was told The Real "wasn't allowing any reality stars on the show". The following week, Tiny Harris and Shekinah Jo from VH1's The Family Hustle appeared on The Real. Toya's publicist reached out to The Real's producers, who stated they were never told she wanted to come on the show and invited her for a guest appearance.
Toya also says her celebrity friends promoted her book How to Lose A Husband by posting a picture on their social media pages. All of them, except Tamar. Tamar's reason was that "her team" didn't think it would be a good look to promote a book about losing a husband.
Toya also said she was surprised Tamar attended the funeral of Toya's brothers because Toya hadn't spoken to Tamar in 8 or 9 months. Toya says Tamar's reason of ending their friendship due to a TV guest appearance is "petty", adding that though they were friends through Tiny Harris, Toya still considered Tamar a "friend".
Toya also discussed putting text messages from Lil Wayne in her book, where he called her the "perfect woman" and said she's the one he'll "straighten up" for. Read Wayne's text messages below:
"Hey fat sry for hittin u so early but I'm up at work as usual and I wanted u to know something that u may not know…& pls don't respond to this msg but keep it forever kuz it'll ALWAYS be true.

I want u to kno that no matter what woman or relationship I involve myself with, I look for u or a piece of u inside that woman. And why I do that is bekuz we are only creatures of habit and accustomed to what we know and believe, & what we know and believe to be love is what we learn when we first experience it, & for me that experience was with u.

My definition of a perfect woman is [you]. Perfect mother, friend, and love. [You're] perfect. Sweet but sexy, crazy but cool, mean but modest and if no one knows [you], I do.

The problem is when I think about a perfect future with someone I envision [you] in the house and Nae in her room and me at work….perfect.

I know I'm too wild for you and it may seem as if I don't take love or relationships seriously, but believe me when I say I'd gladly straighten up and fly right for you [cause] I know you'd accept nothing less.

Given the respect I have for you and that lil' girl, it would be nothing for me to do and be not what [you] want but what [you] need."
Toya says she believes Wayne's message was sincere, but neither she nor their daughter Reginae wants to see them back together. She did say that if she didn't meet another man in the next 2 years, she'd have another baby with Wayne.
Toya also discussed how Wayne's lawsuit against Bryan "Birdman" Williams has affected their family, saying Reginae and Birdman's daughter Bria are no longer close.
Watch below: