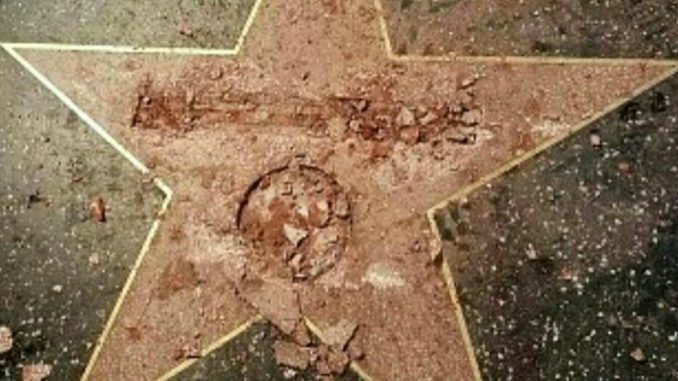 A man, who told reporters his name was "Jamie Otis", dressed as a construction worker destroyed Donald Trump's star on the Hollywood Walk of Fame at 5:45am this morning. The man used a sledgehammer and pick-ax to scratch Trump's name off and pummel the star to pieces .
Via Deadline.com:
He said he originally intended to remove Trump's star completely to auction it off next month in New York to raise funds for the women who have recently come forward to accuse Trump of sexually assaulting them over the decades. In the past few months, 11 women have claimed the GOP POTUS candidate groped or otherwise attempt to get intimate with them.

At a rally earlier this week, Trump told supporters the accusers were not telling the truth and that he would sue them after the November 8 election.
The LAPD has no leads in finding "Jamie Otis" and is asking the public to help identify the man responsible:
#LAPD Update: Asking public's help IDing Vandalism Suspect. Please call @LAPDHollywood at 213-972-2971. pic.twitter.com/QBwro9010j

— LAPD HQ (@LAPDHQ) October 26, 2016