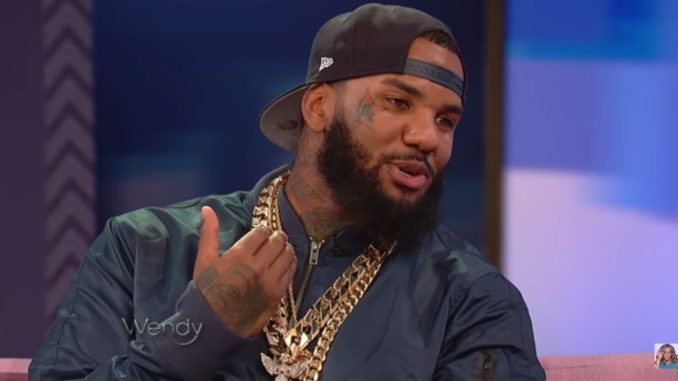 He's got game…
36 year old rapper Jayceon "The Game" Taylor stopped by the Wendy Williams show to spill some new tea and discuss his tired beef.
When talking about his past love life, The Game says he's had sex with 3 Kardashians, Kim, Khloe, and Chyna, although admitting Chyna's not a Kardashian just yet. He also says he's cool with Kanye and Lamar Odom, so he can't indulge in the details of his Kardashian sexcapades out of respect for them.
The Game also explained why he's currently beefing with rapper Meek Mill and singer Sean Kingston. According to Game, the 3 of them were in a club in L.A. Sean Kingston was hit in the head with bottle and had his chains snatched by robbers. Sean then called Game and Game told Sean he would handle it. When Sean told Meek, Meek allegedly said he believed Game set Sean up to be robbed. Sean told Game what Meek said and for the past week, the 3 of them have been beefing over social media. The Game has since put out a diss record where he mentions the role Meek Mill played in the break up between Nicki Minaj and Safaree.
As I reported last year, Safaree and Meek were "industry friends" while Nicki and Safaree were dating. Meek plotted to get Nicki to himself, as he's always claimed her as his "dream girl". Safaree was unfaithful, and actually slept with a girl that Meek set him up with. Meek then snitched to Nicki about Safaree's cheating. You can read that in Safaree's words HERE.
The Game brings that back up in his diss record titled "Pest Control". Game raps:
"You FaceTime Nicki while Safaree was fuckin' a chick. You ain't shit but a rat to me, a snake that don't rattle me."
He also goes in on Sean Kingston:
"Sean Kingston got robbed and now you niggas best friends.

Fat sloppy Twinkie eatin' ass nigga.

You ain't got no pass, nigga, I'ma beat your ass, nigga .

Jelly bean smugglin' fuck ass nigga .

I'll get some clippers and cut your mama's mustache, nigga .

Fuck your sister while you watch 'cause she's kinda thick .

And make that bitch take a knee like Colin Kaepernick .

Now back to Squeak Milly, Meeky Mouse.

You gon' fuck around, get tied up inside Meeky house."
Game also goes in on rapper Beanie Sigel, who's featured on Meek Mill's diss record aimed at The Game. Listen to Game's "Pest Control" below: