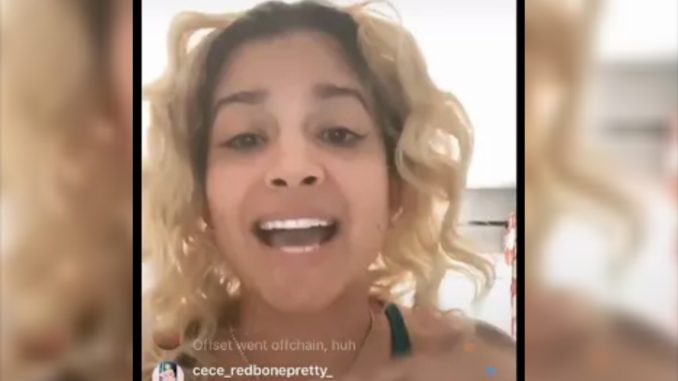 Rapper Shya L'amour, the mother of Offset's oldest daughter, Kalea, addressed his The Breakfast Club interview where he said he didn't really know his second BM when he got her pregnant and being without his oldest daughter was one of the hardest times of his life.

Shya has a different story.
According to Shya, she told him she was pregnant, he blockrd her. She tried to get him to take a DNA test. He ignored her requests, probably because he had another baby on the way at the time (his son Kody is the same age as Kalea).
When he went to jail for 4 months, Shya sent him a picture of their daughter. She was 1 year old then and Offset agreed to step up. Months went past and she didn't hear from him again.
It wasn't until Shya found Offset's mother on Facebook and introduced her to her grandbaby that things finally took a turn.
Just months ago, Offset showed off a pic of his Kulture tattoo and his fans asked where were his other kids names. The "FatherOf 4" said he got all his kids names, but showed off everyone's name, except Kalea's.
Then when his album came out, he acted surprised that the world didn't know he had four kids…
A lot of y'all didn't know I have 4 kids
PROUD FATHER !!!
Jordan-9yrs old
Kody-3yrs old
Kalea-3yrs old
Kulture -7months

— OFFSET (@OffsetYRN) February 21, 2019