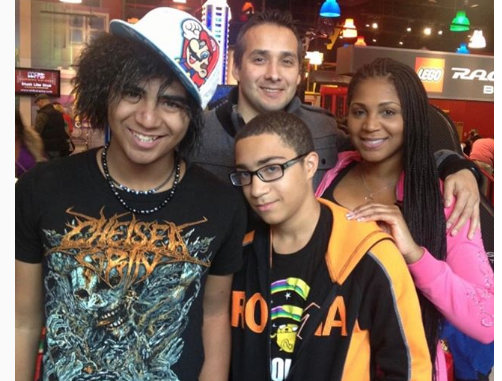 If you're a fan of Braxton Family Values (or Iyanla: Fix My Life) you're well aware of the rocky relationship between Trina Braxton and her ex-husband Gabe Solis — and the even more rocky relationship between Gabe and the Braxton sisters.
Thursday, the 43 year old reality star died after a battle with cancer. Though he reportedly had no biological children of his own, he served as a father to Trina's two sons for 16 years. After the story was leaked, fans attacked the Braxtons for not addressing the news of Gabe's passing. Tamar Braxton confronted the "bullies" of social media in a lengthy Instagram post, saying:
There is NO RESPECT when it comes to social media. I don't believe it was designed for people to have a platform to bully, say what they want, to create mess, or speak against you or to control your destiny. I'm trying things a little bit differently these days. So me posting about @gabe_solis1234 death BEFORE Trina and her asking that we keep it private for his family's sake would have been in bad taste and also going against my sisters trust. I'm on vacation and we heard about the news shortly before you all did. I myself found out he was sick just 3weeks ago. NO ONE expected this!!! All I have to say is I'm sorry to his family for their loss and to @trinabraxton1 who is really hurt and devastated. Please be kind to yourselves and others.. and my family at this time. remember it is the holiday season it can't be easy for NONE of us ?? I'm dedicated this post to you Gabriel dancing to your song ( big punisher) in my inexpensive @fashionnova jumper… see i do listen to u.. i don't spend a lot of money on clothes??? ( cheap ass) ???rest easy BIL? #imsosorry?
Trina later responded to Gabe's passing and to the news leaking to the public before all of Gabe's family and friends were aware of his death:
On December 20, 2018, a chapter permanently closed for my sons and I. For over 16 years, Gabe Solis was an essential part of our lives. Like all families, there are good and bad moments that are endured, but those moments, good or bad still made us who we are in the present. Unfortunately, someone leaked the story before we could make everyone aware of his passing, and I apologize to those friends and family members for finding out through social outlets. I also apologize directly to the Solis Family. I do humbly ask for your prayers for our families, but my greatest request is that when you are posting comments, remember Gabe's passing is a loss for our family. He was a father to my boys, a son, brother, and friend to many and I would appreciate privacy and respect as we grieve his unexpected departure. @gabe_solis1234 I miss you, my dear friend.