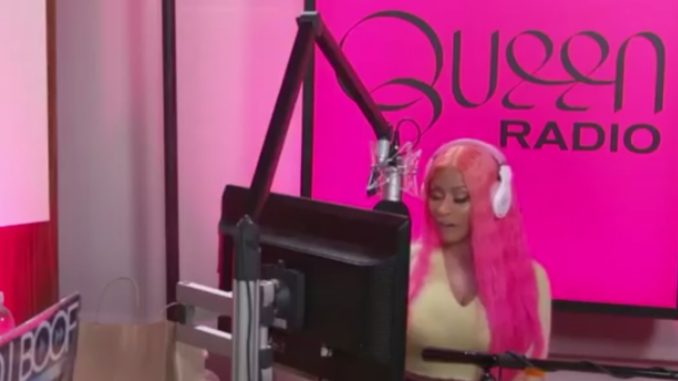 Nicki Minaj enlisted former reality star Brooke Bailey, who appeared on one season of Basketball Wives LA as Draya's frenemy, to help find those who've allegedly been wronged by Cardi B to prove Cardi is a bully, a hypocrite and "disgusting pig".
Brooke messaged a woman on social media who Cardi B insulted after the woman left an unsavory comment on Cardi's post online. Brooke got the woman's phone number and she was called up to Nicki's Queen Radio to discuss her interaction with Cardi.
Nicki also brought up rumors of Cardi fighting a stripper and bartender who Offset cheated with, and sending men to the strip club to attack the women.
Both Offset and the women denied the rumor, saying the fight allegedly started because Cardi's friends were throwing drinks.
Nicki has since been seen posting videos in the club, allegedly partying with the women who fought Cardi's crew.
Nicki also accused Cardi of referring to Black women as "roaches" and says she has receipts, screenshots of tweets were Cardi called a Black woman a roach. However, fans pointed out Cardi has jokingly called herself a roach when discussing her transition from being broke to living her dream:
Nicki says Cardi has built her career off "sympathy and payola", after the two nearly came to blows at a New York Fashion Week event for Harper's Bazaar:
Nicki allegedly liked a negative tweet about Cardi's parenting and when the two crossed paths, Cardi was out for blood.
Nicki denied ever talking about anyone's child or parenting, and accused Cardi of doing so, but fans pointed out during Nicki's beef with rival rapper Remy Ma, she took a jab at Remy as a mother in her diss track "No Frauds":
Nicki Minaj on Queen radio (2018): "I would never talk about anyone's child or parenting."

Nicki Minaj on "No Frauds"(2017): "What type of mother leave her one son over a stack?" -in reference to Remy Ma going to jail and not being able to raise her son for six years. #lies

— Immortal Object™️ (@_musicaddixt) September 10, 2018
Listen to the full episode 8 of Nicki's Queen Radio below: