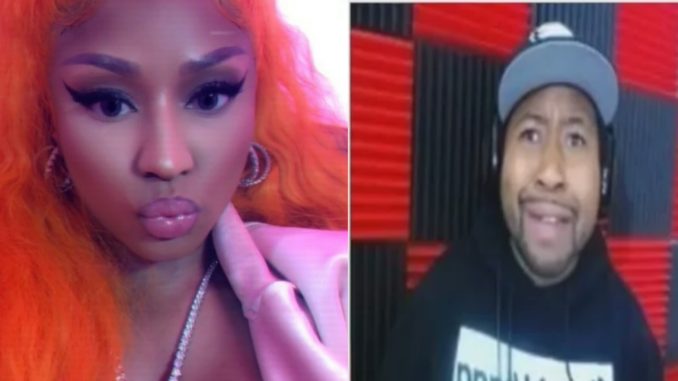 DJ Akademiks responded to Nicki Minaj's statement during her Queen Radio segment on Cardi B.
Cardi is one of several who says Nicki tried to "stop her bag"— stop her from making money— by threatening other artists who wanted to work with Cardi.
View this post on Instagram
Nicki denied these claims on Queen Radio saying she's never tried to stop anyone's bag and went on a rant about a rumor of Cardi stopping strippers from making money who were rumored to have had affairs with Offset.
Both Offset and the strip club workers denied the rumors.
DJ Akademiks responded to Nicki's statement saying it's complete "hogwash", as Nicki once tried to stop his bag 3 years ago.
Watch below:
K. Michelle also claimed Nicki hurt her professionally after Nicki suspected K. Michelle was romantically involved with rapper Meek Mill, Nicki's ex-boyfriend. K. Michelle says the title track for her "Anybody Wanna Buy A Heart" album, a track given to her by Meek, was snatched away because Nicki thought Meek and K. Michelle were having sex behind Nicki's back. Nicki also made K. Michelle return a chain that Meek gifted K. The title track for K. Michelle's album was shortened to "Buy A Heart" and placed on Nicki's album… featuring Meek.
Watch her discuss that below:

Remy Ma also alleged Nicki tried to blackball her during their feud. Remy claimed Nicki threatened to not show up at award ceremonies if Remy was scheduled to win an award or if Remy was invited to the ceremony at all.
Remy says Nicki also asked bloggers to write negative reports about Remy's career:

These sentiments of Nicki having bloggers on payroll were somewhat echoed by blogger Jason Lee, owner of Hollywood Unlocked, who says a member of Nicki's team contacted him to post more positive things about Nicki's career on social media. In exchange, Nicki would like and comment on the blog's social media platform to help them gain more followers.
Jason agreed, but Nicki didn't hold up her end. Listen to that below:

Following their breakups with Nicki Minaj, both Safaree and Meek Mill took to social media to rant about being blacklisted in the industry. Following the end of his 12 year relationship with Nicki, Safaree launched his own music career, only to find out it could possibly end before it began. Safaree stated on Instagram that after previously being welcomed at BET Networks, his publicist informed him he was banned from attending their red carpet in June 2015 following his Twitter feud Nicki days prior:
In March 2017, Meek Mill reportedly claimed Nicki paid bloggers, including Baller Alert and Karen Civil, to tarnish his career. Karen is also one of Nicki's business associates, and during Nicki's relationship with Meek, was a friend of Meek's as well.