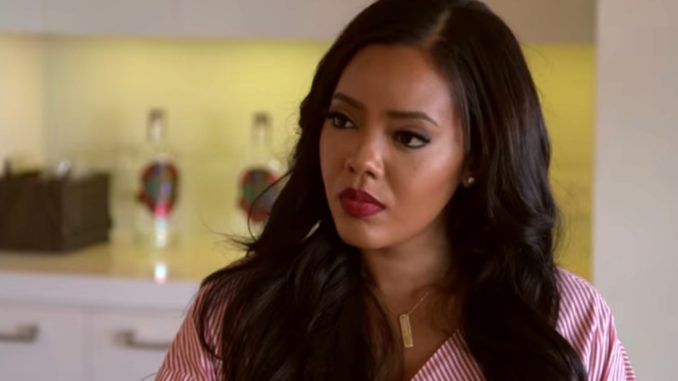 In season four of Growing Up Hip Hop, Angela Simmons opens up about being a single mother, Romeo addresses last season's rumor of him ditching a pregnant ex, and Dame Dash discusses his son Boogie's drug addiction, revealing Boogie left lean in his little sister's bedroom.
In the first episode of the upcoming season, Angela tells her mother Valerie Vaughn that being a single mother is not what she "signed up for". Angela, who once publicly proclaimed she was saving her virginity for marriage, admits to getting pregnant and feeling like she had to stay with her child's father because everyone would judge her for being an unwed mother.
Rumors of abuse and infidelity swirled around Angela's ex-fiancé Sutton Tennyson, who has a lengthy criminal past including "credit forgery, identity theft, drug possession, and police obstruction charges", says reports. The abuse allegations don't come as a surprise as Sutton previously had a restraining order placed on him by an ex-girlfriend.
In 2006, Sutton's ex was reportedly granted a 12 month order of protection after Sutton allegedly vandalized her car, popped up at her home unannounced and threatened to kill her and her loved ones. This came after the couple split ties due to numerous physical altercations throughout their relationship. The ex also allegedly claimed Sutton sent her threatening text messages.
In the upcoming episode, Angela admits wanting to stick it out with Sutton (the couple had allegedly gone through counseling) before they parted ways. Angela's sister Vanessa also discusses Angela, saying Angela agreed to star in Vanessa's fashion show during New York Fashion Week last season, but Ang pulled a no-call/no-show at the fitting and the actual runway show.
Dame Dash sits down with Brianna Isaacs to discuss Boogie. Dame reveals he was still financially providing for his son, saying he cut off Boogie's cell phone. After not seeing Boogie for a while, Dame says Boogie then came into Dame's home and left lean, a mixture of prescription-strength cough syrup and soft drinks, in his little sister's bedroom.
Catch the first look of the new season of Growing Up Hip Hop below: