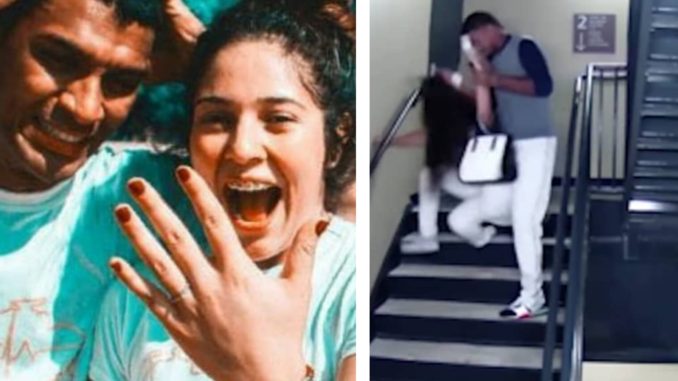 Baseball player Danry Vasquez opened up about the viral video of him beating his girlfriend Fabiana Perez in 2016 on the stadium steps.
In the video, Vasquez backhands his girlfriend multiple times and drags her down the steps before helping her put back on her glasses. His lawyer reportedly told TMZ Sports Vasquez was under "extreme stress" and "pressures to perform" at the time, adding Vasquez's girlfriend loved him through it and believed they could move forward as a couple.
Unfortunately for her, they didn't move too far as months later their relationship reportedly came to an end, and Vasquez met and married a new woman. In an interview with Elemergente.com, Vasquez opened up about the incident and his life as a newly married man:
"That incident happened two years ago," the player told reporter Desiree Castro. "I've really changed. I am doing things that have helped me change. I have matured as a person and I know that what I did, or what was seen, is not an example and is something that is not amended."

"I am currently married, and not with the girl with whom I had the incident," he continued.

"I respect, value and love my wife. She has supported me in all this and has been an unconditional person in this matter. I also know that those scenes were strong. As a public figure, I must set an example.

Today I apologize and show that this should not be done. I know that stronger comments come and I leave everything in God's hand."
Sadly for him, the incident is not over, as it's made its way down to the Venezuelan League of Professional Baseball where he currently plays since being kicked off his minor league team in the U.S.
Antonio José Herrera, vice president of the Tiburones de La Guaira, the team Vaquez currently plays for, reportedly stated the team is considering possible actions to take regarding Vasquez's deplorable actions.