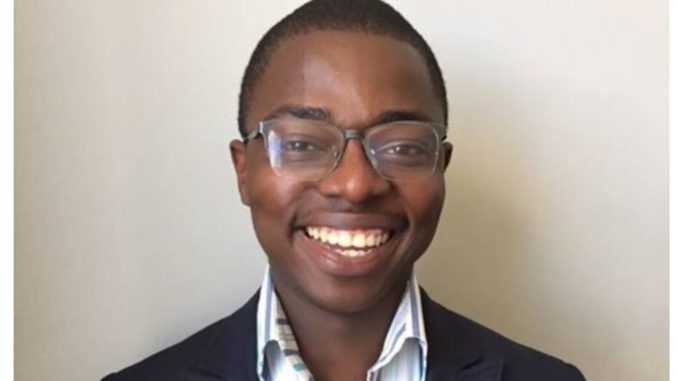 2 months after South African Inventor Nkosinathi Nkomo died, a White industrial designer named Retief Krige is reportedly taking credit for Nkomo's work.
Nkomo, a Soweto-born student at the University of Cape Town created a water purification system and company called AquaRenu, a product built to combat the water crisis in Cape Town. The severe water shortage reportedly began in 2015. The island city gets the bulk of its drinking water from rainfall, which has declined significantly, resulting in 3 consecutive years of drought, says reports.
City officials have asked residents to limit their water use to a maximum of 13.2 gallons per day. Officials will reportedly take extreme measures, dubbing May 11, 2018 as "Day Zero", the day water taps for the city's 3.7 million residents will be turnt off. Cape Town residents will then be rationed 6.5 gallons of water, roughly 25 liters, per person per day.
Those 6.5 gallons is all residents will have to drink, cook, bathe, clean, and use the toilet with daily.
Some businesses, including hospitals, will be exempt from the water cut-off.
The city will have 200 access points scattered about the city where residents can get their daily ration of water.
Nkomo, a third year Civil Engineering student co-founded AquaRenu, a greywater-recycling system that purifies and recycles water already used in your home. The system planned to cut household water usage by 50%. 24 year old Nkomo gained national attention for his invention in October 2017.
2 months later, he was dead.
The college student, who had just raised enough money to fund his 4th year at the University of Cape Town to finish his degree, mysteriously fell from the 5th floor of a hotel building in December 2017. Police reportedly stated they suspected no foul play.
Nkomo's father repirtedly dispelled any thought of a possible suicide, saying his son was excited about his product and raising enough money to finish school. Cape Town police have been tight-lipped about the case, enraging many South African residents.
Another 2 months later, Retief Krige, a White industrial designer, announced his "invention", Waterloo, a greywater-recycling system that purifies water already used in a household.
Congratulations Retief Krige, the industrial designer who created Waterloo, the quick and easy way of using your shower water to flush your loo. Affordable too! https://t.co/HOyBqAyDpp pic.twitter.com/PIuHFeeGMQ

— Helen Zille (@helenzille) February 7, 2018
Sound familiar?
South Africans are furious. They took to Twitter to question the timing of Krige's "invention" and also questioned if he was involved in Nkomo's death.
Are you gonna recognize #BlackExcellence that is #NkosinathiNkomo ? pic.twitter.com/9NbwlBqPXi

— #TheMasterPiece??…Album Coming (@ChulayoM) February 8, 2018
How ironic my tweet coincide with @helenzille 's. I have always maintained that the DA was involved. @tumisole @AdvBarryRoux @danielmarven #NkosinathiNkomo pic.twitter.com/KglyjjZzrC

— Not Adv Ngcukaitobi (@AdvNgcukaitobi) February 8, 2018
Reading up on this #NkosinathiNkomo conspiracy. All imma say is there's been a number of Black people who were in the process of making life easier for Black people dying mysteriously

— Plantain Pizza Advocate (@Melaninneal) February 12, 2018
Facebook coming through with gems#DayZero #CapeTownWaterCrisis #NkosinathiNkomo pic.twitter.com/tpunthG2mY

— Zovuyo Mputa (@zovuyomputablog) February 10, 2018
Black people never forget this face,this is #NkosinathiNkomo the UCT student who invented the water saving system and mysteriously fell from a high building and died in Cape Town,today a white owned company has "invented" the same system & @MmusiMaimane broederbond is celebrating pic.twitter.com/htvLhbtlP1

— ★? S'thembiso?★ (@king_sthera13) February 11, 2018
You ran an entire Province out of water, your people killed #NkosinathiNkomo and stole his idea, you're victimizing @PatriciaDeLille ,your son is a tender thief,all in all you're a dismal pathetic failure,yet you have time to stick your unbathed nose in ANC business, daily.

— #LandExpropriationWithoutComp (@neville_molefe) February 11, 2018
This happens far too often. This is just not right. It's time to protect OUR OWN. We as THE people need to stop this from ever happening again and bond together as ONE.
–
Spread the word and make this worldwide news. #nkosinathinkomo
–#blackpower #waterloo #capetown #blackme pic.twitter.com/8ji6G9OaM7

— Cocoa24 (@cocoa24daily) February 12, 2018
The People who killed Nkosinathi Nkomo shouldn't think this is over, as soon as I am done with Senzo Meyiwa's case, I am coming to you & yours it's an easy case. #SenzoMeyiwa #NkosinathiNkomo #JusticeForSenzoMeyiwa pic.twitter.com/Q9yUBWysFZ

— Man's Not Barry Roux (@AdvBarryRoux) February 8, 2018