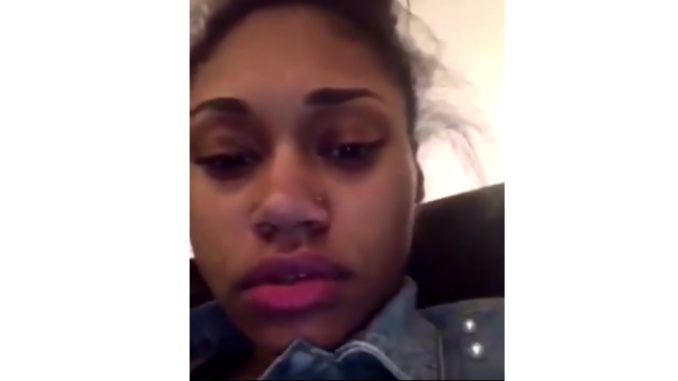 NBA YoungBoy allegedly put his girlfriend Jania out of his hotel room and made her sleep in the lobby. Fans caught the 17 year old girl asleep on the couch in the hotel's lounge and snapped pictures of her.
According to fans, Jania tried to fight NBA YoungBoy's fans at a recent concert and the footage was captured the night he put Jania out. Those in the crowd appeared to grab Jania's legs to snatch her offstage as she kicked at them. NBA YoungBoy just stood by and watched the mayhem as security attempted to remove Jania away from the edge of the stage:
Jania was also recorded fighting NBA YoungBoy's fans a month ago at another concert for grabbing at his genitals while onstage. Jania attempted to smack their hands away as NBA YoungBoy stood beside her and watched:
It's not clear if Jania fighting his fans at the recent concert caused the argument between the couple, but the 18 year old rapper put his girlfriend out of his hotel room and made her sleep in the lobby.
Afterwards, 17 year old Jania, who's accompanying the rapper on tour, recorded herself in a heartbreaking live video, telling fans she was okay despite being put out. She also revealed she had to sleep on the floor the previous night. The next day, the dysfunctional couple made up and NBA YoungBoy apologized to Jania by taking her shopping.
He allegedly posted a picture of Jania with her shopping bags where he bragged about making her sleep in the hotel lobby and then taking her shopping, but it was later deleted.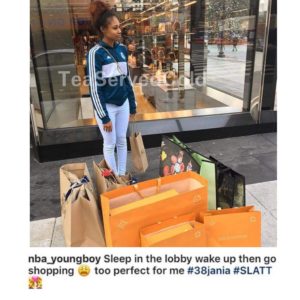 Watch her below:
After making up with her boyfriend and making it back into the hotel room, Jania had a few words for the person who snapped the picture of her sleeping in the hotel lobby:
Those who have been around the couple say that NBA YoungBoy disrespects Jania a lot and she always takes him back.