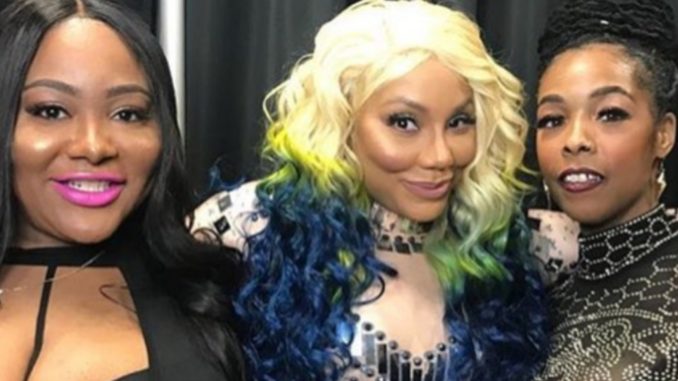 Hurt people hurt people.
Last night, Tamar Braxton reportedly tried to reignite the beef she has with her former friend Toya Wright by bringing The Queens Court  onstage during her set on The Great Xscape Tour. The Queens Court is a live celebrity gossip show on social media.
The show's growing popularity is due to the hosts TS Madison and rapper Khia and their unfiltered commentary on celebrities. Khia and her disdain for Toya Wright and Toya's daughter Reginae Carter has been a hot topic on their recent shows, leading to social media beefs among the ladies.
Last night, during their New Year's Eve concert at Atlanta's Philips Arena, Tamar reportedly attempted to have The Queens Court hosts do a segment on Toya Wright, but the ladies of Xscape shut it down. Stylist Nate Stewartz saw the action backstage and posted:
TS Madison clapped back denying they were kicked out, despite Nate saying he was in the hallyway backstage when security was told to remove The Queens Court hosts from the arena.
Xscape members Tameka "Tiny" Harris and Kandi Burruss are friends of Toya and didn't want their show tied up in their mess. According to TS Madison, the ladies of Xscape tried to have them kicked out of the arena, telling security that TS Madison and Khia were armed weapons.
When security wouldn't let them in, Tamar's husband and manager Vince Herbert (who's supposed to stay away from Tamar, per Tamar's restraining order) talked to security and was able to let The Queens Court in the venue. As the ladies got dressed and had their hair and makeup done, they were told that Tamar was "pressed" (pressured) not to do the segment with The Queens Court by Xscape members.
When Vince told them the news, he asked The Queens Court hosts if they would like to stay backstage and watch the show.
They said no and left the arena in the limousine purchased for them by Vince and Tamar.