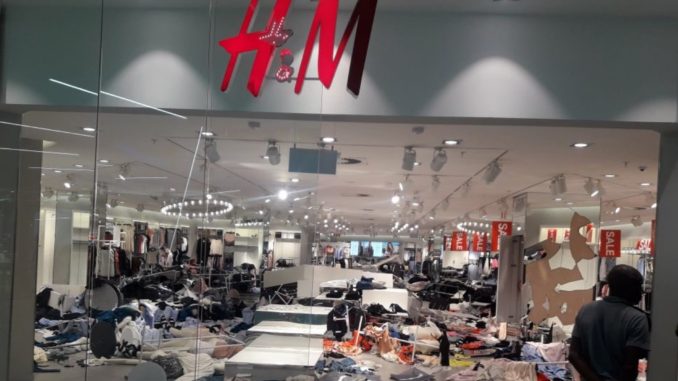 The Black boy model for H&M UK is still going viral.
woke up this morning shocked and embarrassed by this photo. i'm deeply offended and will not be working with @hm anymore… pic.twitter.com/P3023iYzAb

— The Weeknd (@theweeknd) January 8, 2018

H&M UK posting the Black boy on their website catalog wearing a hoodie with the words "Coolest Monkey In The Jungle" printed over his chest, resulted in celebrities ending their campaigns with the major retailer. H&M released a statement saying they would remove the image and the hoodie from their collection altogether.
That wasn't good enough.
In regards to H&M pic.twitter.com/EuvWMmZ6XA

— G-Eazy (@G_Eazy) January 9, 2018
The child's mother Terry Mango even tried defending the brand. Terry, who's a Nigerian-born Sweden resident, said she didn't get why Black people were so upset and didn't view her son wearing a "coolest monkey" hoodie as an offensive stereotype.
The boy's image was revamped by social media users, with some photoshopping a crown on his head and covering the writing on his hoodie with more affirming titles, in an effort to change the image's narrative.
But for our brothers in the mother land, that simply wasn't enough.
That @hm nonsense of a clothing store is now facing consequences for its racism. All rational people should agree that the store should not be allowed to continue operating in South Africa. Well done to Fighters who physically confronted racism. pic.twitter.com/cgdedYGoOj

— Floyd Shivambu (@FloydShivambu) January 13, 2018
Pictures and videos of an H&M store being destroyed this morning are making its waves across the web.
The store destroyed was inside Menlyn mall at Sandton City, Johannesburg, South Africa. It was reportedly part of a protest at the mall by the Economic Freedom Fighters (EFF) on Saturday morning. EFF's reported Deputy President Floyd Shivambu tweeted about the overt racist oppression South Africans face everyday saying "the land is still in the hands of those who stole the land. We will not tip toe around racism. We will fight physically if needs be":
That's correct GS, after the brutally stole the land, generations after generations sent petitions and deputations to the Queen and to this day, the land is till in the hands of those who stole the land. We will not tip toe around racism. We will fight it physically, if needs be. https://t.co/JHqKrZSg9t

— Floyd Shivambu (@FloydShivambu) January 13, 2018
H&M refused to repair their Bangladesh factory and it collapsed killing 1138 sweat shop workers, so pls, tear the fucking place down for whatever reason you see fit

— Raquel Inacihoe (@Raquelinacioo) January 13, 2018
The EEF's Commander In Chief Julius Sello Malema also responded in a series of tweets and retweets to those who've questioned the EEF's form of protest:
Racists insults us by getting an innocent black child to wear a shirt declaring that he is a monkey! We condemn those protesting this insult telling them to be more peaceful and send petitions! History repeats itself. When land was taken we sent petitions to the Queen for years!

— Zwelinzima Vavi (@Zwelinzima1) January 13, 2018
We will never be told by any fool on how to fight against our oppression particularly those who have never been at the picket lines. There's no formula on how you should fight the oppressor, expect more action against all racists, individually and collectively this year. #Siyeza

— Julius Sello Malema (@Julius_S_Malema) January 13, 2018
– :You are saying every time black People are called baboons or monkeys we must call for a commission of inquiry or stupid dialogues ? It's time for white privileged to fall.

— #WesternCapeHomeOfEFF (@MTshwaku) January 13, 2018