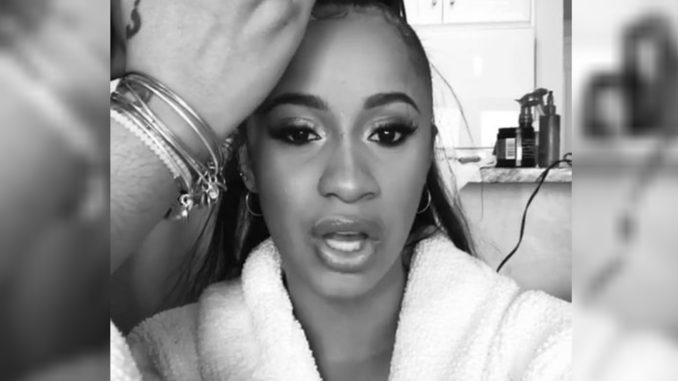 Cardi B went on Instagram Live to address those who say her success came easy.
Though she's still riding the wave of her "Bodak Yellow" hit, Cardi's success was long in the making. The 25 year old hustler spent years and thousands of her own loot as an independent artist trying to convince people to listen to her music.
Fans got a peek at her humbling start during her stunt on Love & Hip Hop: New York as the rap star begged one of the most prominent DJ's in New York, DJ Self to play her music. Unfortunately, Self made it clear that he would rather sleep with her than work with her.
Fast forward to 2017, the Trini-Dominican girl, affectionately called Bardi, is living her best life rocking a half-million dollar engagement ring from her rapper fiancé Offset, to landing magazine covers, a rumored single with Beyoncé, and earning the respect of Nicki Minaj, Lil Kim, and Remy Ma alike.
Cardi B is GOALS!
But like most women her age, the opinions and naysayers often get to her, like rappers Kash Doll and Azealia Banks, who publicly questioned if Cardi deserves all the glory she's basking in.
In an emotional video, Cardi B recounts life as a struggling independent artist, investing $60,000 of her own money into singles that flopped, begging DJs to play her music, and wanting to invest money made from stripping into salons before choosing to put her dollars behind her music.
Watch below: