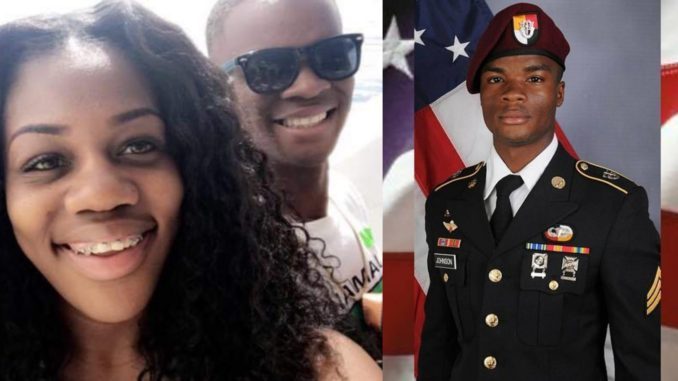 Sgt. La David Johnson met his wife Myeshia Johnson when they were just 6 years old in Miami. They both worked at Wal-Mart together, but La David had dreams of joining the military. Myeshia supported his dreams and La David later joined the 3rd Special Forces Group at Fort Bragg, North Carolina.
"I told him before he leave that I love him and 'make sure you come back to me', and he told me he would. And for them to knock on my door is just– my whole life just changed in an instant because my husband was my soulmate", Myeshia told CBS.
Sgt. La David Johnson was killed after being left behind when his team was ambusbed by Islamic militants in northwest Africa:
Via ABC News affiliate Local 10 News – Miami:
Johnson was fighting alongside Green Berets when he died. The group, which included a Nigerien patrol, didn't have U.S. overhead armed air cover when Islamic militants ambushed them Oct. 4 near the Niger border with Mali .

Johnson was left behind when French forces' helicopters scrambled to evacuate the soldiers, and it took nearly two days for Nigerien forces to find his body in the desert of the landlocked nation, according to the U.S. Africa Command.
Sgt. Johnson was only 25 years old. When his remains, which took 2 days to find, arrived at the Miami International Airport, they were awaited by Johnson's wife Myeshia, their 6 year old daughter and 2 year old son.
Myeshia, who is currently 6 months pregnant with the couple's third child, draped her body over the casket in distraught as her 6 year old daughter stood beside her.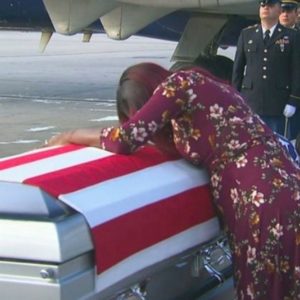 "For him not to be with us anymore is just heartbreaking and devastating because I don't, you know, I don't know what I'm gonna do without him. He was just everything to us," said Myeshia.
Their third child is expected in January.
What made Sgt. Johnson's story catch headlines was President Donald Trump's heartless response to his death when he reportedly spoke to Sgt. Johnson's widow.
According to Florida Congresswoman Fredrica Wilson, who overheard Trump's phone call to Myeshia, says Trump told the young widow her husband "knew what he signed up for, but I guess it still hurts anyway".
Watch that below:
Congresswoman says President Trump told widow of fallen soldier "he knew what he signed up for" https://t.co/fThTYTAkqb pic.twitter.com/0plShJflXE

— CNN (@CNN) October 18, 2017
Trump says the Congresswoman "fabricated" his words to the widow, but CNN stands behind their story:
Democrat Congresswoman totally fabricated what I said to the wife of a soldier who died in action (and I have proof). Sad!

— Donald J. Trump (@realDonaldTrump) October 18, 2017
Cowanda Jones-Johnson, the woman who raised Sgt. La David Johnson, tells CNN that @RepWilson's account of the Trump call was "very accurate"

— Dan Merica (@danmericaCNN) October 18, 2017
A scholarship fund has reportedly been created for Sgt. Johnson's children.