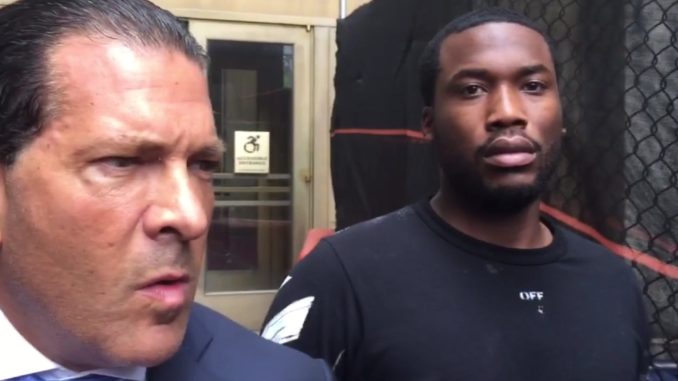 Meek Mill talked to the press outside the court house after being arrested for reckless driving and reckless endangerment.
The charges came after Instagram videos showed Meek Mill riding his dirt bike without a helmet, popping wheelies and making an illegally turn. Despite 8 other drivers around him doing the same thing on their bikes, Meek Mill was the only one arrested, according to his lawyer. The 30 year old rapper, who is featured riding his dirt bike in his previous music videos, had just left a charity event in NYC.
Meek, whose real name is Robert Rihmeek Williams, attended a charity basketball event for high school students in Dyckman. He was surrounded by fans taking pictures and videos of the rapper before leaving to finish shooting a music video. Fans followed the rapper through Manhattan as he shot the dirt bike segment of the music video. An Instagram live video showcased the rapper doing wheelies. According to his lawyer, there were police present during this segment who observed Meek and didn't pull him over.
According to blogger, Fameolous, Manhattan police received a 911 call around 8:30pm Thursday night about Meek and his crew riding through the city. Police conducted a "social media canvas" where they watched Meek's crew riding dirt bikes without helmets in the 34th district on Instagram. The call gave a description of Meek and identified him as a "music artist/performer". 22 police cars were dispatched to the area and again, only Meek was arrested.
Police originally charged Meek with felonious reckless endangerment, but the charges were dropped down to misdemeanors. Meek is expected to appear back in court October 11 with proof of "driver improvement", says reports.
Via New York Daily News:
Prosecutors wanted Judge Gerianne Abriano to set bail at $7,500.

"The defendant has an extensive out-of-state record from Pennsylvania, including a drug conviction, a conviction for a loaded gun as well as multiple drug convictions… as well as many other contacts with the criminal justice system out of state," Assistant District Attorney Eli Cohen said.

"The defendant is a famous musician who has the means to flee if he so desires … The defendant drove a dirt bike in the streets of Manhattan, putting other drivers… as well as himself, in danger of serious injury, which is a large concern with the quality of life in this particular area."

But Abriano ultimately sided with his lawyer's request that Mill, 30, be released without bail, noting that he had stayed out of trouble for nine years.
Watch Meek and his lawyer Joe Tacopina speak to the press outside the court house Friday below: