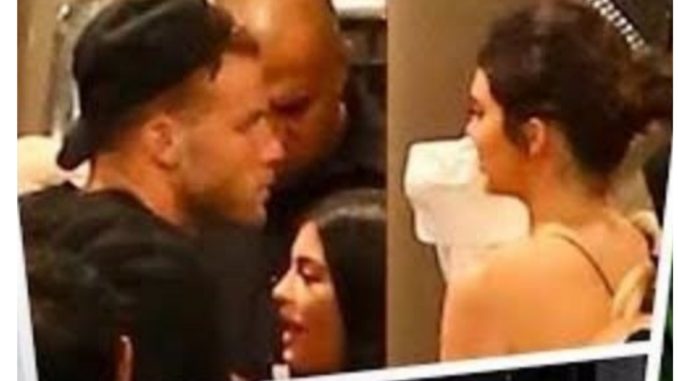 Those Kardashian and Jenner girls move on fast!
21 year old model and Keeping Up With The Kardashians star Kendall Jenner has kicked her on-again-off-again rapper boyfriend A$ap Rocky to the curb for NBA player Blake Griffin.
Kendall and Blake have been spotted together 3 times in less than a week.
Last Tuesday, the 2 left together in the same Sprinter limo around 1AM outside of Travis Scott's (Kylie Jenner's boo) after party at Avenue Nightclub in LA. Blake was pictured hanging with Jenner's family, hugging Kris Jenner and talking to Kris's boyfriend Corey Gamble, and sister Kylie.
Friday and Saturday, the two joined Ken:dall's friend Hailey Baldwin in the Hamptons at Gurney's Montauk Resort & Seawater Spa.
Via Page Six:
The pair, joined by Hailey Baldwin, was spotted hanging out together on a daybed on the beach at Gurney's Montauk and hit Surf Lodge on Friday and Saturday.

"It looks like the beginning of a new romance," said one spy.

Another tells us, "They weren't all over each other, but they were inseparable. Kendall was hiding under a hoodie, and they wouldn't allow anyone to take their picture."
Sunday night, they grabbed dinner at Craig's restaurant. They left at the same time, but got in separate cars. Blake apparently moves fast, too. The 28 year old L.A. Clippers power forward because just welcomed his second child with his 31 year old girlfriend Brynn Cameron less than a year ago.
Brynn, who played college basketball for USC, shares 2 children with Blake, a son named Ford born in August 2013 and a daughter who will turn one next month.
Brynn also has a 11 year old son, Cole Cameron Leinart with NFL veteran Matt Leinart.