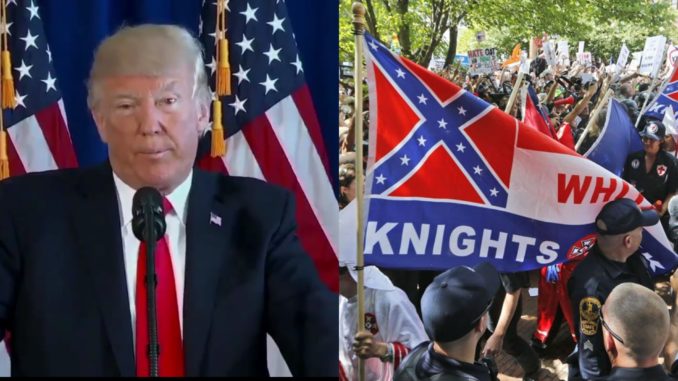 President Donald Trump held a press conference today to discuss the "egregious hatred, bigotry, and violence" that took place for over 12 hours in Charlottesville, Virginia.
In the late evening hours, White nationalists, the new politically correct term for "racists", also called "Alt-Right"; or "White thugs", marched the campus of University of Virginia in the small Democrat town of Charlottesville, chanting "One people. One nation. End immigration", "Blood and soil", and "You will not replace us, White lives matter".
The White thugs were part of a "Unite the Right" protest and carried lit tiki torches.
Some wore Trump's Make America Great Again hats. Some reportedly wore swastikas. All left their hoods and capes at home.
Not a cop in sight.
Virginia's governor reportedly stated he had the National Guard on "stand by" in case the riot peaceful protest got out of control, but they conveniently missed the rioters fighting amongst themselves that night:
By the morning, the riot protest was still in affect, posting hate propaganda on the streets of Charlottesville, like this one, filled with false crime stats:
As the pitiful group of farmers, truck drivers, and wealthy White heirs gathered more attention, more fights and bickering began to break out, this time between the rioters and the citizens of Charlottesville.
In this clip, a woman is heard chanting "Black lives, they matter here" and a racist rioter responds by calling her a "whore":
In another clip, the White nationalists' bickering turned violent, as they striked citizens with confederate flag sticks:
Still no visible cops seen trying to stop the violence.
Oh, wait. Here they are. Charlotteville cops are seen here being attacked by White nationalist rioters, who also took over the police barricade. Why do you think the cops just stood there, refusing to arrest or even resist?
Authorities finally decided to step in after a gray sports car plowed into a group citizens who were representing Black Lives Matter and protesting against the White nationalists. The driver injured at least 19 people and killed one. Police reportedly said they didn't think the driver had "no malicious intent". Take a look for yourself:
Video of driving through crowd of protesters in #Charlottesville

— Severin Jahn (@severin_jahn) August 12, 2017
Charlottesville's Democrat mayor Mike Signer urged citizens to go home via Twitter to avoid any more serious injuries. He called the Unite the Right protesters "a cowardly parade of hatred, bigotry, racism, and intolerance".
In today's press conference, Donald Trump refused to hold his supporters accountable, saying "the egregious hatred, bigotry, and violence" has took place "on many sides", while mentioning the same acts have occurred under former President Barack Obama's leadership:
What is vital now is a swift restoration of law and order and the protection of innocent lives.#Charlottesville pic.twitter.com/DB22fgnu6L

— Donald J. Trump (@realDonaldTrump) August 12, 2017
Social media reacts to the acts in Charlottesville:
There's no excuse for refusing to denounce white supremacy wherever it arises. We must stand up against hate and violence. #Charlottesville

— Tom Mulcair (@ThomasMulcair) August 12, 2017
these spot the difference games are getting so hard :/ #Charlottesville pic.twitter.com/nGnix8lzSn

— tina ??⛈ (@hottamaletina) August 12, 2017
A car driven into a crowd by a white american doesn't differ from one driven by an islamic fundamentalist, it's terrorism #charlottesville

— simone s. c. (@SimoneCSDK) August 12, 2017
Trump didn't introduce white supremacists & racists to us, he has only emboldened them to come out of their dark corners. #charlottesville

— Linda Sarsour (@lsarsour) August 12, 2017
White conservatives now saying, "don't define us by actions of extremists." Odd, they don't believe that for other groups. #Charlottesville

— Jessica (@jessmdavison) August 12, 2017
Privilege is when you contribute to the oppression of others and then claim you're the one being discriminated against. #Charlottesville

— Dr. DaShanne Stokes (@DaShanneStokes) August 12, 2017
A note to all white supremacists:

You can't "take back" a country that was never yours. It's you who doesn't belong here.#Charlottesville

— Victoria Waith (@VictoriaWaith) August 12, 2017
If a POC or Muslim had driven into the Nazi parade in Charlottesville today, we'd be under martial law by now. #Charlottesville #TrumpsBase

— JulieGaughran (@gaughran444) August 12, 2017
White people. We created this, it's our job to end it. Confront your racist family,neighbors. Have the tough conversations. #Charlottesville

— Maia Mitchell (@MaiaMitchell) August 12, 2017
There's no apolitical response to what happened today in #Charlottesville. You pick a side. Choosing to ignore it is a side.

— Mat Johnson (@mat_johnson) August 12, 2017
Absolutely horrified/disgusted at what is happening in #Charlottesville. White supremacy is dangerous every day, white silence costs lives.

— Sol ?? (@queerstewart) August 12, 2017
Pay attention to Christian leaders who don't condemn white supremacy; chances are they're racists or in bed w/racist powers #Charlottesville

— Jory Micah (@jorymicah) August 12, 2017
"By choosing to ignore it, you've picked a side".