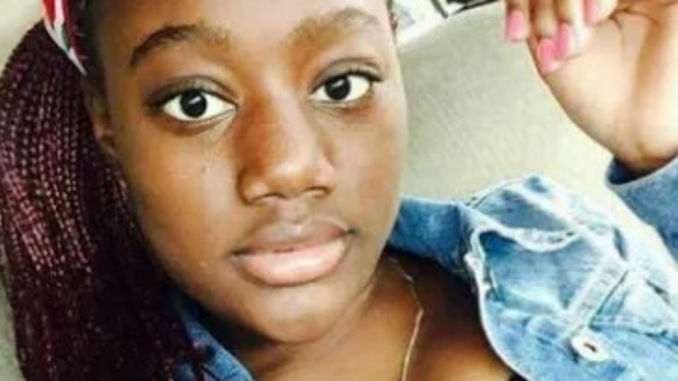 Imagine your parent being your biggest bully.
The mother of Nakia Venant, the 14 year old who killed herself on Facebook Live, has been exposed as a fraud.
After the Hatian-American teen took her own life, her mother Gina Alexis Caze sat next to an attorney and spilled crocodile tears all over the press table.
The Florida Department of Children and Families says while Caze was crying, she forgot to mention that she watched her daughter's 2 hour live suicide video and taunted the teen in the comments as Nakia wrapped a scarf around her neck. She reportedly said the teen was "attention-seeking", "crying wolf", and mocking the teen for having ADHD:
"#ADHD games played u sad little DCF custody jit that's why u where u at for this dumb s–t n more u keep crying wolf u dead u will get buried life goes on after a jit that doesn't listen to there parents trying to be grown seeking boys and girls attention instead of her books", said Gina on Nakia's Facebook live suicide video.
Gina denies leaving the comment, portraying herself as a grieving mother, shocked by her daughter's death. Gina also failed to mention that the beginning of Nakia's sexual abuse started in her home.
According to the Mail Online, Nakia was sexually abused by her mother's boyfriends, forced to sleep in the same bed with them.
All the blame won'tbe placed on Gina, as the The Florida Department of Children and Families knew that Nakia was being abused at home and repeatedly placed her back in her mother's care, before the mother decided she no longer wanted custody.
"Following her removal from Caze's care, Venant was in foster care for 28 months over the course of eight years. At one point she was passed around to 14 different homes in the span of 16 months", says Mail Online.

"The DCF claim that she displayed inappropriate sexual behavior and that she admitted in a therapy session that she had seen pornographic videos and slept in the same room as Caze's boyfriends."
Nakia suffered more bouts of sexual abuse at the hands of her foster families. After being tossed back and forth since the age of 8, Nakia was given up by her mother.
In 2011, Gina "relinquished custody, saying that she no longer wanted the teenager but remained in contact with her through social media sites."
Unfortunately, it was on social media that Gina bullied her daughter one last time before she took her own life.
R.I.P Nakia.