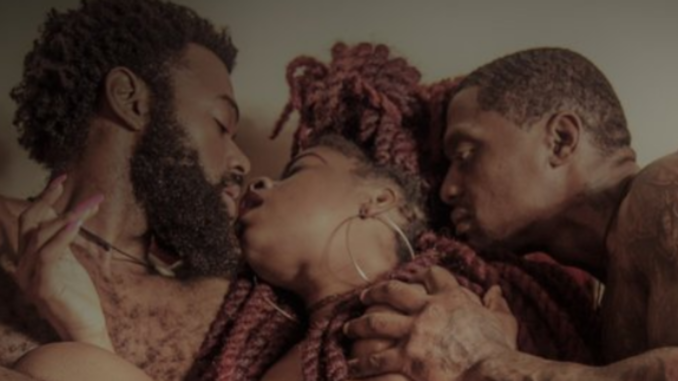 In an effort to help a local swingers' club Trapeze, promote their Sunday night parties, Atlanta woman Cidney Green decided to host a city wide swingers slumber party for her birthday.
Yes, read that right.
The soon-to-be 27 year old decided to do it big for her upcoming birthday and the hashtag #ATLOrgy has taken off. She posted the news on her Facebook page, which landed her in Facebook jail. Her birthday invite comes complete with nude, sexually explicit photos and a secret party location.
She could've at least let the male models get on hard before shooting. See photos HERE.
Cidney explained the event on her site, KundaliniKak.com:
"This event is nothing like you have ever attended. I was going to do just a regular 7 hour party but was NOT ENOUGH!

This is my 27th birthday and this overnight event will encompass everything I love and adore:

Great vibes, Good Ratchet Music, Amazing Food and Swangin Balls!

First thing's first: SEX IS ALLOWED! AND NUDITY IS 100% ENCOURAGED! There will be no place where you will get the urge to get frisky and can't!"
Cidney refers to herself as sexually liberated and says she talks about things that most women are afraid to:
"There will be lots of ass, moans of pleasure and of course …watching. Nobody is obligated to do anything they don't want to do. Which means, you can come, ONLY watch… and never touch a soul!

There will be security to give everyone that enhanced peace of mind.

This is all about FREEDOM and reconnecting to the carefree part of who you are. That's why this is a slumber party in a place where you can drink, dance, fuck, pass out then sleep in late! This party will be held at a super secret location (where no cameras are allowed). Only confirmed guest will get the address 12 hours from the party.

*confirmed means you have paid the amount in FULL.*

Here is what I can tell you about where it will be:

-It will be very…homey…cozy…private…and spacious!

EVERYTHING ABOUT THIS EVENT WILL SCREAM SEXUAL FREEDOM AND EXPRESSION!"
She also has the orgy itinerary planned out:
"I want this event to be the place where you make your sexual fantasies come true. Let me tell you how it's going down:

You will arrive at the location at 8:00PM. (The detailed agenda will be sent to confirmed guests 12 hours from the event). You can make yourself comfy and flirt…

We will have a ratchet pre-party. By ratchet I mean the music….Future and 21 Savage will be played…and there will be twerking.

We eat dinner at 10:00PM and then…

The party official SWAH (swingers bash) starts at 12:00AM (My actually Birthday). There will be unpredictable acts occurring…(damn I cannot wait!)

This party will last until we all fall asleep from too many orgasms. Then we will wake up and enjoy a late breakfast together…coffee etc.

Re-Cap on the night and head out later on in the afternoon.

I have left out so many details it's unreal. I love to receive and GIVE surprises but, I will give you a lil more".
She continues:
"This event includes:

Dinner: (Saturday Night)

Late Breakfast: (Sunday Afternoon)

Snacks and refreshments will be a constant thing.

Sexy gadgets to play with during and after the party. (Take em home)

Sexy eye candy of both sexes

Plenty of alcohol: We will provide fruity, brown and white options for all guests.Oh yea, wine too!

Surprises that I shall not mention

Lots of condoms

And of course, an amazing place to lay your head.

You can fuck and sleep anywhere you want…(some areas will be off limits. Those details will be given upon arrival)".
Cidney also issues a disclaimer for anyone who may encounter an STD or two at the party:
"HAVE SEX AT YOUR OWN RISK!

We are not liable for any transmitting of STDs of any kind.

We recommend safe sex. Condoms will be provided. Bring your own if you would like as well.

We are NOT selling sex or condoning any prostitution of any kind.

We are not liable for anything happening to you of a negative nature. This includes anything from food allergens to drunk driving. You are 100% responsible for what happens to you during and after this party. We assume no responsibility what-so-ever.

If you cannot provide a valid photo ID at the door you will be denied entry.

We have a strict no refund policy."
If you're looking to attend Cidney's party, unfortunately it's sold out:
Cidney also gave an interview with Rolling Out Magazine. Watch below: