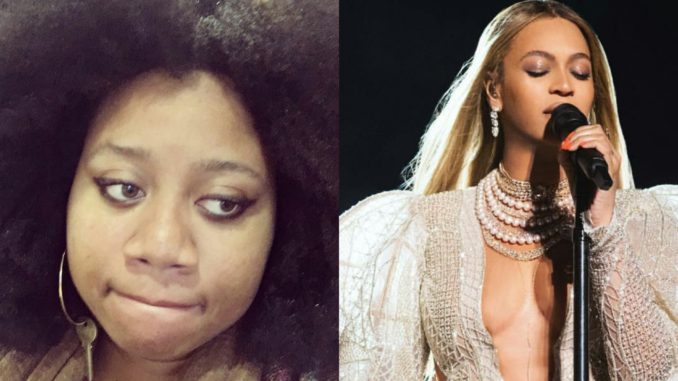 Country music bigots fans weren't the only ones who weren't fond of Beyoncé's CMA performance. American Idol finalist LaPorsha Renae expressed her thoughts of Beyoncé's performance of "Daddy Lessons" with the Dixie Chicks during a livestream to her fans:
"I didn't feel like that dress matched that song. I didn't feel like her movements matched that song. It was confusing… and people couldn't even grasp the beautiful message of that song. She was thrusting her hips and popping her butt. Country people… I don't even think they do that. They didn't like it because the essence of country wasn't there."
Watch below:
So LaPorsha Renae sounded off on Beyonces appearance at the CMA Awards pic.twitter.com/dwDCkbaTmv

— Stefano Dimera (@2much336) November 6, 2016
"Beyonce split the essence of country music wide open and tried to force them to accept her" pic.twitter.com/3Bv8eXISsu

— Stefano Dimera (@2much336) November 6, 2016
Sigh. I can hear the Beyhive buzzing through her comments now. Say goodbye to a career in R&B, LaPorsha. Maybe you can try country?
Watch Beyoncé's CMA performance below:
? cuz i know you missed it LIVE: Queen Beyoncé performing Daddy Lessons with The Dixie Chicks on the 50th CMA Awards ?? pic.twitter.com/wl0qdEs2uM

— WavesOnDeck (@iXclusive_Ced) November 3, 2016
The CMA received a lot of backlash for allowing Beyoncé to perform with exiled country music stars, the Dixie Chicks at this year's ceremony. The CMAs received so many negative comments from their bigoted viewers, they deleted all evidence of Beyoncé's performance, despite inviting her to perform: