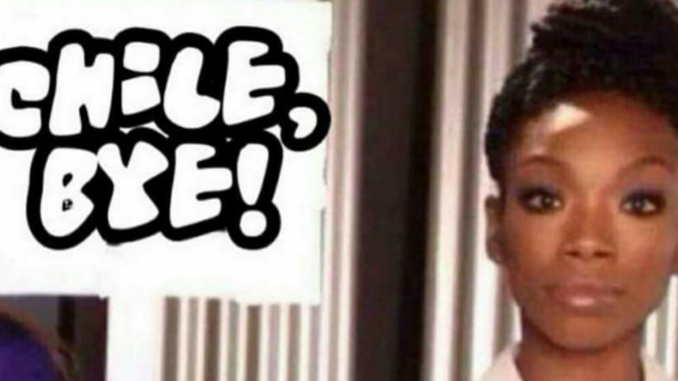 Struggle voice just won't stay in her place.
2 days ago, Monica posted a snippet of her Where Are They Now segment on Oprah Winfrey's OWN TV. In the snippet, Monica tells of the time Whitney Houston came all the way to Atlanta to comfort Monica after Monica's grandmother passed away. Monica referred to Whitney as her "fairy godmother", a character Whitney played in the 1997 musical Cinderella, alongside Brandy:
Eariler today, Brandy also posted a tribute to Whitney, proclaiming she was Whitney's "fairy goddaughter", adding other people wished they had the bond she and Whitney shared: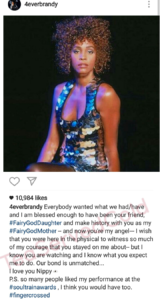 Brandy tributed her 2016 Soul Train Awards performance, which aired last night, to Whitney and remixed her song "Talk About Our Love" to mention her Instagram beef with Monica. Watch below:
Monica was busy today, tending to her Uncle Larry who was hospitalized in ICU. When she read all the shade being thrown her way, she again took the classy approach, saying how disappointing it was to see all the foolishness she was tagged in: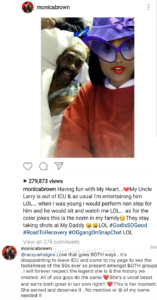 Their two decade old beef resurfaced back in September, Monica's 2003 hit "So Gone" got a resurgance in sales and relevancy when fans participated in her #SoGoneChallenge, uploading their own version of the hit song. A fan jumped in Brandy's instagram comments and asked if she would participate in the #SoGoneChallenge. Brandy's response: "Chile Bye":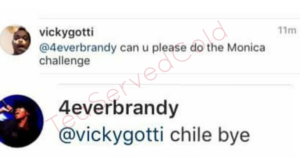 Brandy then posted subliminal disses at Monica, posting about people who drain your energy and captioned the picture "#BeenGone", a dig at Monica's "So Gone" song title. Brandy also joked about starting her own challenge using her 1994 hit "Wanna Be Down":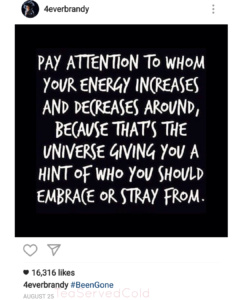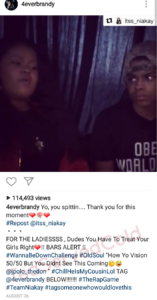 After her "Chile Bye" comment landed her in hot water with Monica's fans, Brandy later said she didn't need to start a challenge to stay on top: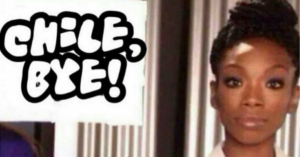 Monica responded with classy shade, saying "negative, envy, hate and jealousy are the key to an early demise":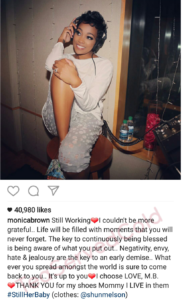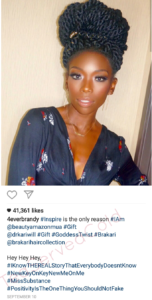 Brandy responded with a picture of a butterfly, captioning it "Nothing to be bitter about when you realize you have wings….#Butterfly".
Monica also addressed the beef on The Real, saying it was a "test" and she's taking the high road:
Bitter Brandy just won't let go. In an interview earlier this year, before the instagram beef began, Brandy was asked if she would work with Monica again, as their 1998 duet won the two a Grammy. Brandy responded saying she no longer speaks to Brandy and the two are on different paths.
Sigh.