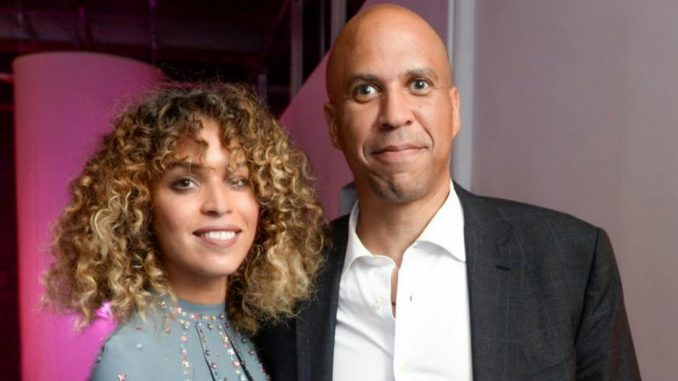 It went down in her DMs…
47 year old Senator Cory Booker has found love…. on Instagram. The democrat New Jersey senator is reportedly dating 28 year old Instagram poet and Katy Perry's former stylist, Cleo Wade. The two were spotted at Refinery29's "29 Rooms" event in Brooklyn during New York Fashion Week. According to partygoers, Senator Booker looked "out of place" at the event, which was held at a Brooklyn warehouse, where stars such as Jessica Alba, Adrian Grenier and Priyanka Chopra all attended.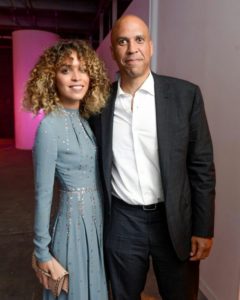 Wade, who sits on board of the National Black Theatre in Harlem, is also an artist known for her large scale public art pieces and attended the Refinery29 event as one of her pieces was on display.
"They were holding hands through the different rooms and looked very much like a couple", said an attendee. "He was shaking hands with people who were coming up to him, and she was being very friendly with everyone and patient when they wanted to take his picture. He was saying he came to see her work."

Wade collaborated on an installation that was on display at the event, featuring a round, red bed with colored pillows, upon which people lie down wearing headphones while watching a screen on the ceiling.
Despite the age gap, the two actually share a lot in common, including their political beliefs. Wade sits on the Creative Council of Emily's List, an activist group seeking to put more women in political office. Wade is also a supporter of Hillary Clinton, attending the Democratic National Convention in July. Sen. Booker, who assists Clinton's presidential campaign, was reportedly in the running to become Clinton's Vice President, but lost to Virginia Senator Tim Kaine.
Wade and Booker are also very private with their love lives. Wade was once linked to Twilight star Robert Pattinson, and Sen. Booker is so private, he was once rumored to be gay!
Wade, a New Orleans native, currently resides in downtown NYC, where she can be a lot closer to her New Jersey boo.