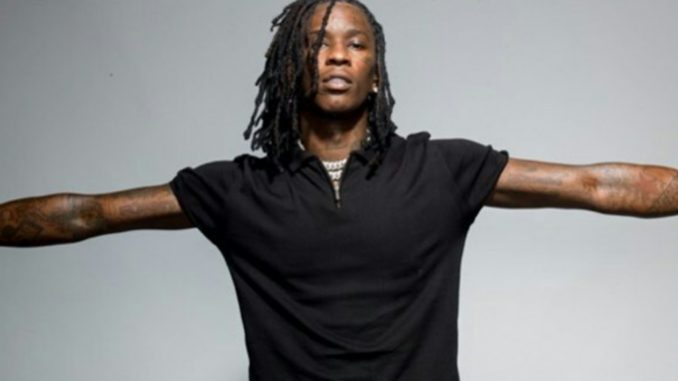 "When I seen that dress, I felt like God gave it to me", Young Thug on the periwinkle dress worn on his "Jeffrey" album cover.
25 year old Atlanta-bred rapper sat down with Billboard magazine to discuss his gender-bending fashion and his wedding plans with fiancé Jerrika Karlae. Thugger's album cover for his self-titled EP caused quite the controversy.
Hip Hop doesn't exactly welcome homosexuality or gender-fluid trends with open arms. Since entering the music industry, the emcee formerly known as Jeffery Williams has raised questions about his sexuality. From referring to fellow male rappers such as Rich Homie Quan as "hubby" and "bae" to wearing skirts and mesh blouses, Young Thug's persona has been that of a confusing anomaly as his hardcore rap lyrics are inharmonious with his effeminate fashions.
Thug says he once got in trouble for experimenting in women's clothing. Recalling a moment from his childhood, Thug says:
"When I was 12, my feet were so small I wore my sisters' glitter shoes. My dad would whoop me: 'You're not going to school now, you'll embarrass us!' But I never gave a f*ck what people think."
Thugger also sings the praises of Alessandro Trincone, the designer behind his album cover gown, saying:
"Whoever he is, he ain't regular," says Young Thug of the designer. "The n*gga reminds me of me."

"When I seen that dress, I felt like God gave it to me."
When discussing his wedding style, Young Thug says his fiancé Jerrika won't be the only one in a dress:
"When it comes to swag, there's no gender involved."

"There will be two brides," he says.
Two weeks ago, VFILES released footage from their sit down with Young Thug and Jerrika Karlae. The interview set social media ablaze, as Thug admitted, despite how physically stunning his fiancé is, the two "never ever, ever have sex". Because of this, Jerrika initially thought Thugger was "weird", then one day, filled with liquid courage, Jerrika pulled Thugger in a room, jumped him, and gave herself some… sexual healing.
Watch that below:
PLUS: Watch the moment God gave Thugger his pastel Alessandro Trincone gown for his album cover: