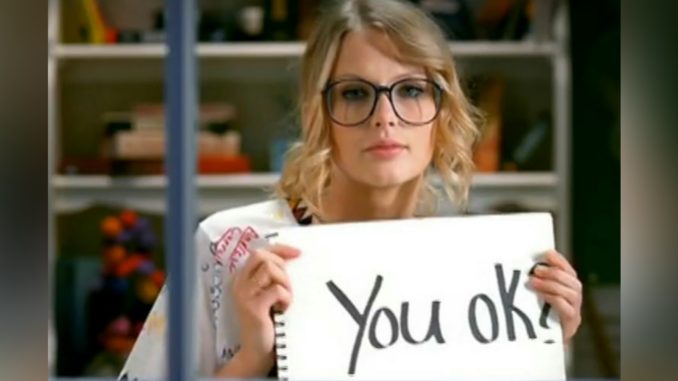 Sunday night, Kim Kardashian took to Snapchat to expose Taylor Swift as a liar, a scammer, a real messy b*tch who lives for drama.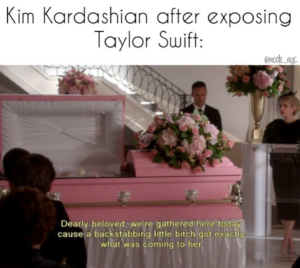 Back in February, Kanye revealed a new single for his The Life of Pablo album, titled "Famous". The controversial lyrics mentioned Taylor Swift, who has been pegged as Kanye's "victim" in the media ever since he stole her shining moment at the 2009 MTV VMAs.
[WATCH] Kanye West's "Famous", Featuring Rihanna VIDEO
Kanye and Taylor had since moved past that moment and had even formed a friendship. When Kanye revealed the lyrics to his Famous single, which says "I feel like me and Taylor might still have sex. Why? I made that b*tch famous", social media erupted, calling out Kanye for "bullying" the sweet, and whoresome wholesome Taylor Swift again. TMZ stated Taylor approved of the lyrics prior to it's release, but Taylor's publicist Tree Paine, claimed their report was false:
"Kanye did not call for approval, but to ask Taylor to release his single 'Famous' on her Twitter account," said Tree Paine, a representative for the Ms. Swift. "She declined and cautioned him about releasing a song with such a strong misogynistic message." She added, "Taylor was never made aware of the actual lyric, 'I made that b*tch famous.'"
Kanye then jumped on Twitter, confirming he got both his wife's and Taylor's approval on the lyrics prior to its release. Taylor Swift didn't initially respond, but Taylor's brother, Austin Swift posted a video on his Instagram page tossing his Yeezy shoes in the trash, referring to the act as "spring cleaning":
During Taylor's Grammy speech, she threw shade at Kanye while attempting to inspire other young girls, saying to never let a man take credit for your accomplishments, as Kanye said he made her famous:
Kanye West Goes on a RANT Inside Yo Gotti's Album Release Party at 1Oak Nightclub: Talks Amber Rose's Fingers, Taylor Swift & $53 Million Debt
Both Kanye and his wife, Kim stuck to Kanye's story of getting Taylor' s approval beforehand. Last night, Kim finally uploaded the video of Kanye and Taylor's conversation where she actually approved of the lyrics. See video on NEXT PAGE.
So why did Kim wait 5 months to upload the video? For ratings. See NEXT PAGE.