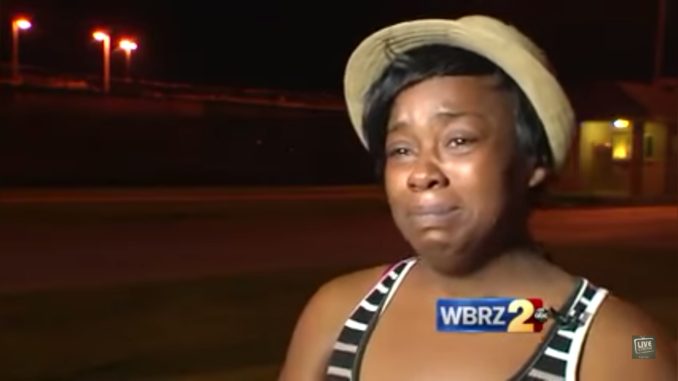 30 year old Schaquana Spears was arrested for being a parent. The single mother of six says she got a call from her neighbor, who told Spears her three oldest sons, aged 13, 12, and 10, and their friends were carrying big bags of items into Spears's home. The neighbor believed the boys broke into someone's home and had stolen the bagged items. Spears immediately left work and arrived to her house within three minutes. Upon arrival, she caught her sons and their friends with the stolen items. Spears says she tried to snatch the bags out of the friends' hands as they jumped out of the window and ran off. Spears then grabbed her belt off of her dresser and whooped her three sons.
Growing up in New Orleans, Spears has seen the cycle of crime happen to the Black men in her community far too often. Her sons' father is currently incarcerated and she's taken every step to ensure her boys don't meet the same fate.
"I have them in the best of schools. They're on the honor roll all throughout [the school year]. They're in magnate schools, and they're just being kids, being followers. So I thought I was showing them [stealing] is not what you do. You don't steal people's stuff, what they've worked hard for. I know how that feels. I had my house broken into.

But, instead, I'm the bad guy. For trying to discipline my kids and show them right from wrong. [Stealing], that's not what you do. I wasn't raised like that and I won't allow y'all to go that way."
Spears was arrested by East Baton Rouge Parish deputies and booked on two counts of child cruelty. Her bond was set at $2,500. Her story garnered sympathy from thousands of people. One woman, Winter Applewhite, who owns Come Get Me Bail Bonding, got Spears out of jail.
Spears has since lost custody of all six of her children. When asked what she plans to do to get her children back, Spears breaks down in tears:
"I know I can't live without my children. That's what makes me who I am. I live for them. That's all I have and I don't know what I'ma do, the first steps to take. I don't know what's going to go on. I don't know".
Unfortunately, her story is not uncommon. It's much more socially acceptable to watch a mother struggle with an out of control 5 year old in a grocery store than to see her spank that 5 year child in a grocery store. In recent years, parents caught physically disciplining their children publicly have faced arrests. The line between discipline and child abuse is as muddy as Flint water, but one judge says spanking should be outlawed altogether.
Continued on NEXT PAGE.