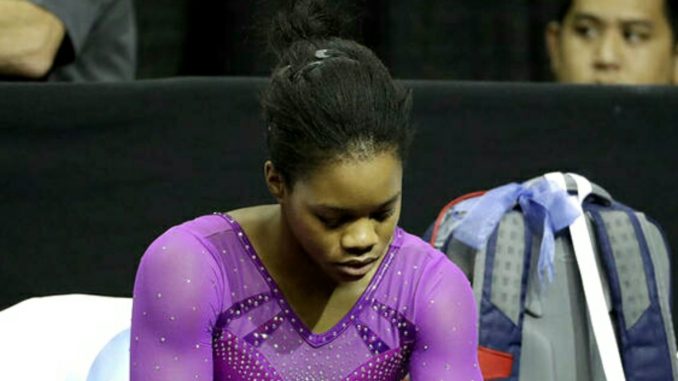 "At first they were like, 'Good job, you're in the Olympics'. And then they kind of turn on you" – Gabby Douglas
After finishing seventh out of eight in the finals competition of uneven bars, Gabby Douglas entered into a room full of reporters.
Like the rest of the world, they didn't care about her performance, her technique, or the fact that she's the first African American woman in Olympic history to become individual all-around champion. Like the rest of the world, they cared about her hair, why she didn't place her hand over her heart during the national anthem, and why she didn't cheer hard enough for her teammates.
For 20 minutes, the 20 year old Olympic star discussed being the butt of jokes, the face of memes, and the target of social media trolls. With tears in her eyes, Gabby asked reporters "what did I do?":
On Her Experience at This Year's Olympics:

"Well, in my head I had pictured it a little bit differently. I think everybody does. You want to picture yourself on top and doing those routines and being amazing. "

"When you go through a lot and you have so many difficulties and people against you sometimes, it kind of just determines your character. Are you going to stand? Or are you going to stumble?"

On the Hate She's Gotten Online:

"Geez," Douglas said, her eyes beginning to well up with tears, but never, ever, breaking. "I've been trying to stay off the internet because it is so much negativity. And … ah … I'm like, 'What?' … When they talk about my hair or me not putting my hand on my heart or me being salty in the stands and, you know, really criticizing me … and it doesn't feel good. For me, it was a little bit hurtful."
Read more on NEXT PAGE.