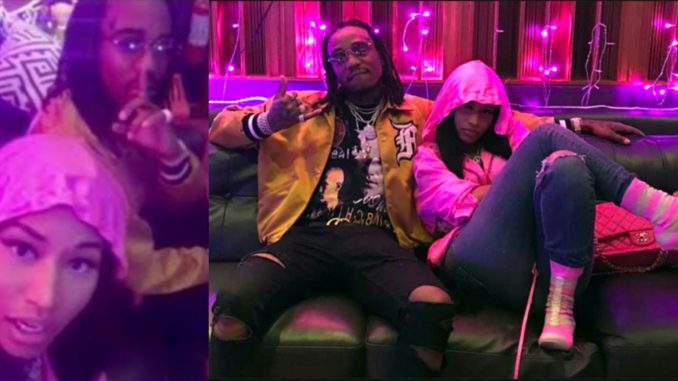 Quavo dropped "Huncho Dreams", a response to "Barbie Dreams", and details an alleged relationship between the two.
The 27 year old rapper spit bars about about buying those Chanel bags Nicki Minaj gagged over in an Instagram video and being the "new boy" she referred to during her appearance on The Ellen Show.
Read his lyrics below:
Call up queen (Nicki)
The queen can't flex on a young bull (Flex)
Made her scream (Scream)
Chanel, I bought her two of 'em
You can check IG (Hey, IG)
'Cause when she post, it go up (Go)
Is she for keeps? (For keeps)
Remember those two Chanel bags Nicki was gifted and posted on Instagram back in August:
View this post on Instagram
He continues:
I see a queen on a tree-tree (What you see?)
She like the ride new boy tree-tree (Yeah, new boy)
I see a queen on the tree-tree (What you see?)
She like the ride that boy tree-tree (Yeah, new boy)
Nicki (Nicki), do you love me? (Please)
Nicki discussing falling back off her "new boy" during their brief relationship:
Nicki falling back from Quavo is possibly due to Quavo not having her back during her public feud with Cardi B. During an interview, Nicki said she asked Quavo to publicly defend her when she and Cardi fell out over Nicki's original verse on the "Motorsport" track featuring Nicki, Cardi, and the Migos. Nicki claimed Quavo refused, saying he could only defend Nicki if she was "his girl".
However, Quavo raps that it was Nicki who didn't want a public relationship:
Nicki (Nicki), do you love me? (Please)
Why you crying? (Why?)
She don't wanna be a queen unless she got me (Queen)
She don't wanna be on scene unless we married (On scene)
No cap (No cap, yeah), forreal (Hey)
Tea in my double cup, it can't spill (Tea)
Left the fire on the dresser at the hotel (Fye, yeah)
Drunk as hell, made her cook some RO-TEL (Whip it, whip it)
If the truth hurt, then I won't tell (Truth)