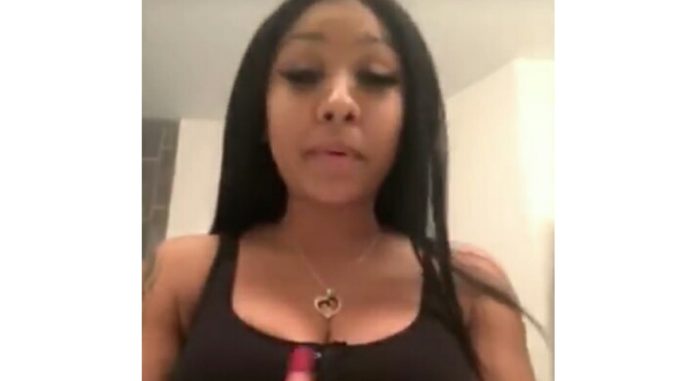 One of our favorite Hip Hop couples have called it quits for good this time. Chicago-born rapper Herbert "G Herbo" Wright III and his long-time girlfriend Ariana Fletcher found their way into the humors and hearts of fans from displaying their hood love on social media, but the 23 year old couple left those fans heartbroken after it was revealed that not only have they broken up, G Herbo has moved on with an even younger starlet whose parents starred on Love & Hip Hop.
Ariana and G Herbo welcomed their first child, a son named Yosohn Santana Wright, earlier this year.
Before Ariana and Herbo admitted they called it quits, Ariana took to Instagram and posted a photo of Herbo FaceTiming with his new boo, Taina Williams. Taina is the 20 year old daughter of Emily "Emily B" Bustamante, former star of Love & Hip Hop: New York. When it was revealed that Herbo moved on to Taina, fans of Ariana and Herb attacked Taina in her Instagram comments, leading Herbo to come defend his new bae:
View this post on Instagram
After fans attacked her, Breah Hicks, who's dating Diddy's son "Christian Combs, commented on Ariana's Instagram Live video and claimed Taina is a habitual sidechick. "She loves guys with whole a** girlfriends", said Breah, implying that Taina and Christian were more than friendly behind her back:
Taina's friends quickly defended her, telling Breah to thank Taina for letting Breah "keep" Christian, adding Christian is for everybody!
Ariana discussed her breakup on Instagram Live saying she only revealed the two seperated because other women Herbo's dating are bragging that they've broken up the couple when Ari and Herb have been broken up for months. She then joked their breakup, saying "we broke up because he's just like the rest of these n*ggas. He want to go out and be a f*cking h*e", Ari laughed. She then said the only reason she hasn't "went in" and spilled all the tea on their breakup is because "that is my son's father, unfortunately".
She also offered up advice for his new woman, though, saying "suck that d*ck and do a good job, try to get you some sh*t, you ain't gone get much", laughed Ari.
Watch below: