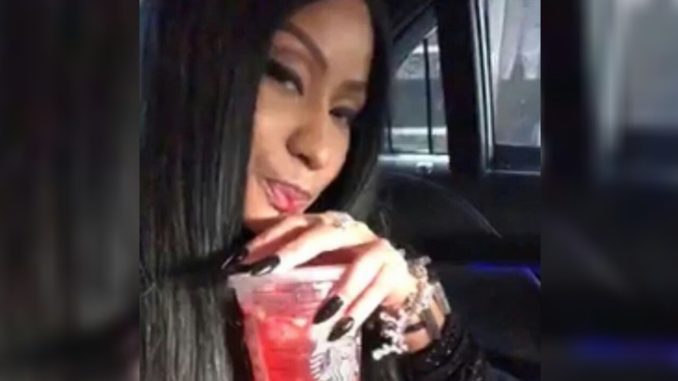 "The only rapper in the history of rap who can only talk about deals and songs she's supposedly turned down cuz she can't talk about a verse she's ever written. [F*cking] fraud" Nicki Minaj on Cardi B
I've never seen Nicki get this rattled over another female rapper.
Cardi and Nicki's beef carried over to Twitter where Nicki addressed Cardi's claim of turning down deals that were offered to Nicki.
Nicki tweeted:
I'll pay you to take a lie detector test about every claim I made on #QueenRadio. You won't. I must admit you're a convincing liar. You looked me dead in my face & said you told ya man not to do the "no flags" video cuz I was dissing you. London on da Track got the same call

We can… Get on live & have the convo for the world to see. Do a lie detector test TOGETHER Do an interview on #QueenRadio *** ORRR we can both sit in a room together, hear a beat for the first time, and have ourselves FILMED WRITING TO IT!!!!!! #DipVIDEO OUT NOW

Same thing with Steve Madden. Irv Gotti asked me to do that deal several times. I passed. You never hear me talking bout things like this. she rlly thought she was doing smthn talking about turning down deals. BWAAAAAHAHAAAHAHAHAAAAA #DipVIDEO out now. BABY GIRL WRITE A RAP!

Her lawyer just called my agent threatening him for putting out the receipts. #DipVIDEO #WomanLikeMe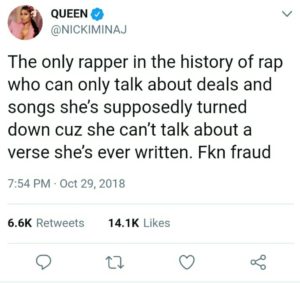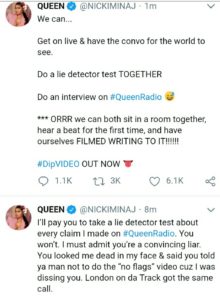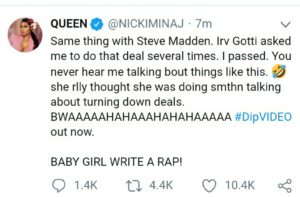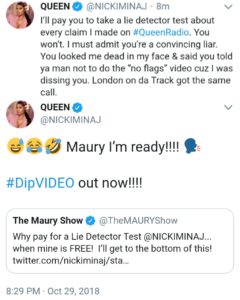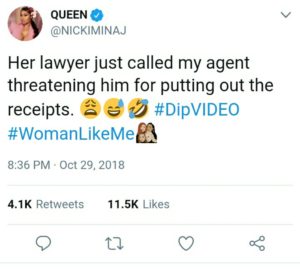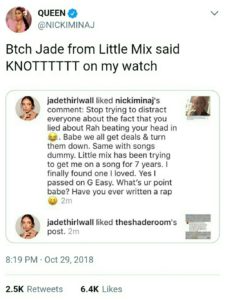 Cardi claims Diesel, an Italian-based clothing line, offered her a deal before she turned it down and it landed in Nicki Minaj's lap. For whatever reason, the CEO of world-renowned modeling agency (Tyra Banks voice) Wilhelmina Models, Bill Wackermann jumped in the beef. Bill says that Diesel deal was built around the one and only "Queen", Nicki Minaj… but Cardi has receipts. Take a look: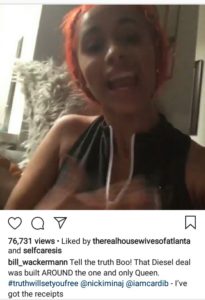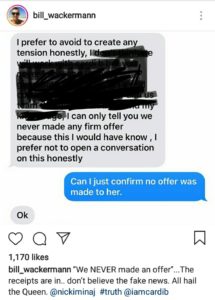 Press to swipe through Cardi's receipts: