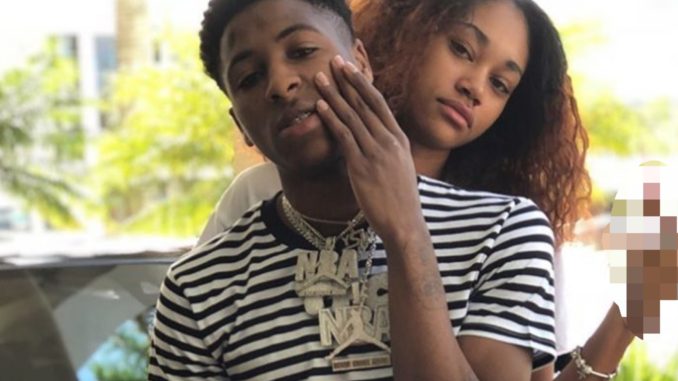 NBA Youngboy revealed his girlfriend Jania is pregnant, despite a reported restraining order to stay away from her.
After surveillance footage showed the 18 year old rapper body slamming his 17 year old girlfriend in a hotel hallway and dragging her back into their room went viral, NBA Youngboy was arrested and charged with felony kidnapping and assault earlier this year.
Despite Jania hopping on social media,
telling fans they were only "playing", police reportedly found evidence of blood inside their hotel room.
NBA Youngboy was ordered to stay away from his girlfriend, according to reports, and per his 3 year probation, ordered to complete a domestic violence program, community service and enroll in a GED program.
Youngboy reportedly revealed in a previous interview that he dropped out of school in the 9th grade to pursue music.
Younboy, whose real name is Kentrell Gaulden, has been recently spotted with a Muslim woman rocking a burka. Fans suspected the woman was Jania, using the burka to conceal her identity to be around Youngboy during the court-ordered restraining order, but the rapper showed the face of his decoy girlfriend on social media and it's not Jania.
Now that Youngboy revealed Jania "been pregnant", it's clear she was never hiding under the burka, as the Muslim doesn't appear to be pregnant. He also says he plans to reunite with her as soon as their restraining order is over and his "new girl" gotta go.
Watch NBA YoungBoy discuss Jania being pregnant while being banned from seeing each other below: