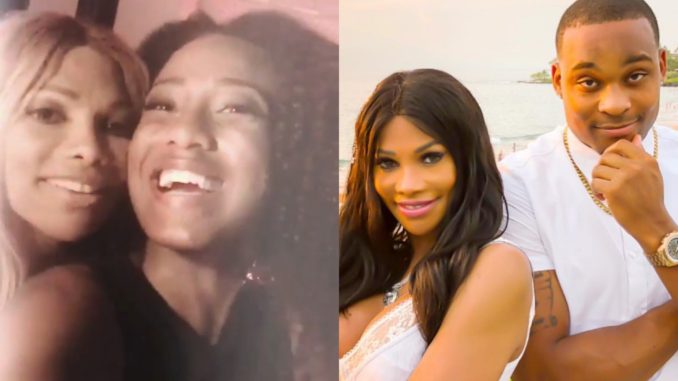 A TV Reporter by the name of Jordyn Taylor took to her Instagram page to blast Salt-N-Pepa's Sandra "Pepa" Denton for stealing her man, aspiring actor Aundre Dean.
According to Jordyn, Aundre introduced Pepa as his "boss". Jordyn and Pepa got so close, she referred to Pep as "Auntie Sandra", and Aundre even suggested making Pepa the godmother to their child.
As recent as December 2017, Jordyn has pictures of her and Aundre, who she says has since missed visitations with their son as he's busy taking trips across the country with Pepa.
Read her post below:
"When mistresses talk about God… it's laughable! "Keep being a good dad?" @iamaundre can't keep his visitations with his son because @darealpepa is parading him around the country. Still, I blame him for this! News check… Good dads pay child support & don't break in and vandalize their wives apartments. Good dads also don't stress their pregnant wives out for 15 minutes of fame with a D list "has been" senior citizen celebrity…

Still, I release you both in the name of Jesus. God bless u #GUHH#heresyour15minutesoffame. Liar… saying she was your boss. Introducing me to her & asking me if SHE could be our daughter's god mother! #fatheroftheyear 🏆"
Pepa has since deleted the picture of her and Aundre on Instagram.
Jordyn also posted a video of her and Pepa on her birthday:
Take a look at Aundre below:
The 29 year old college football star turned actor is on the come up, rubbing elbows with Black Hollywood's elite:
He's also posted pictures on set with singer Miguel's fiancé and The Platinum Life star Nazanin Mandi.
Jordyn has a few pics with celebs as well, as part of her job as a reporter.
Just a few months ago, he was a family man:
Now, he's posting pics of him and his ready-made family: Aundre, Pepa, and her daughter Egypt:
He's since turned the comments off on his recent Instagram posts as well.