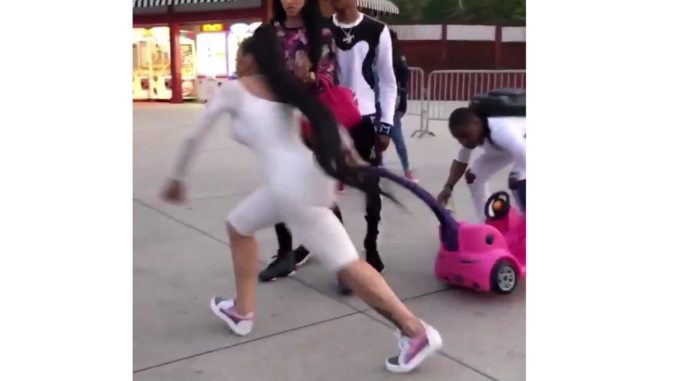 A woman who goes by @_callmelexooo (Lexi) on Twitter claims she's the one who started the fight against Chyna and her crew at Six Flags on Easter Sunday.
While the woman admits she touched Dream Kardashian's hand, enraging Chyna who told park goers not to touch her child, Lexi claims she had no idea baby Dream was with Chyna, saying neither of Chyna's kids were walking with Chyna, but with Chyna's friends.
Chyna's friend pushed Dream in her stroller, says Lexi and when she complimented the tot, Chyna's friend simply replied "thank you" and let Lexi touch her hand.
Lexi wrote a Twitter thread about the experience:
Soooo here's a thread about my first time going to six flags.

Sooo I was having a good little time and I see black chyna's beautiful baby right? So I'm like awwwww like omg this baby is so cute (not even knowing this was her fucking baby) so I'm guessing it was the nanny but she rolled the baby towards me right?

So when she rolled the baby towards me I'm like "awww hi little baby you're so cute" and I rub her little hand. Lmao whyyyy this bitch gone say "Don't fucking touch the kid bro".

Like woah so I'm dying laughing I couldn't get mad because I was so in shock  like she really just came for me and I was tryna complement this lil baby like ok bitch wtf lmao.

So a lady comes up to me and she's like "omg was that you black Chyna was talking about? She said she was gone whoop yo ass" so now I'm in tears  like lmaooo for what wtf this bitch think cause she black chyna she won't get slapped.

So when I see her again I'm like "excuse me did you have a problem w me touching your baby? And you said you was going to beat my ass" BITCH GONE SAY "yup and I did wassup" and start taking her shit offfff y'all.

So y'all know me …… I just slap TF when I say THEE DOGGGGGGG SHIT I slapped the dogggg shit out hg  so when I did her fucking boyfriend start socking on me  and my sister LMAOOOOO LIKE REALLY SOCKING ON US.

So we start really socking on this nigga and we really fighting this bitch boyfriend. So while we fighting her boyfriend her whole lil crew start swinging  ITS ME AND MY SISTER !!!!

So now we fighting everybody really socking on shit. Then her friend tried to talk to me and I beat her ass too. But I mean I had a blast.

I just slapped the shit outa black chyna and fought her boyfriend and all her lil friends. But this nigga was really socking on us he's really a bitch period."
She also responded to Chyna's explanation of the fight:
Really hoped on instagram a whole different person she was a couple hours ago and wasn't even walking with her child.

Talking about shout out to mothers out there you address your beautiful daughter as "don't touch the kid" bye a really mother would've told me that was her child.

A real mother would've came at her nanny before she would come at me.
Let me explain one last time and after this I promise I'm done Omm https://t.co/e7YIgVor9B

— SexxiiLexxii 🌻💛 (@_callmelexooo) April 2, 2018
Lexi also went live on Periscope to respond to Chyna's fans attacking. She tweeted:
"I'm not finna be replying to y'all mad ass fans lmao period idgaf period don't let nobody walk your fucking baby to a stranger weirdo!!

I touched her baby with one finger on her hand idc how nobody feel and like I said I only slapped her because she thought she wanted to fight.

Never complimenting or touching another baby in my life keep y'all lil cute kids the fuck away from me period".
This girl's account of what happened and what is seen in the videos conflicts. According to Lexi, Chyna took her jacket off before the fight, which prompted Lexi to slap her.
In the video, Chyna is seen taking her coat off and there's no slap seen anywhere.
Unless full footage of the altercation from start to finish leaks, we'll take this girl's account with a grain of salt.
---