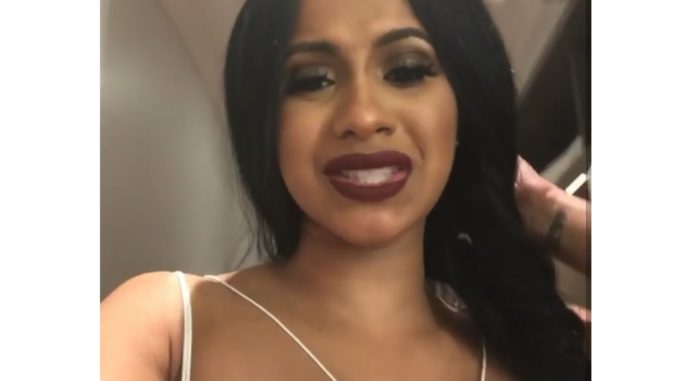 Fameolous leaked alleged text messages between Offset and Cardi B discussing Nicki Minaj.
Nicki's original verse on Motorsport was  an issue for Cardi, with Nicki's original line saying "if Cardi the QB, I'm Nick Lombardi", referencing legendary football coach Vince Lombardi and how he shaped the careers of NFL legends, such as Bart Starr. The line could be seen as another way of Nicki calling Cardi her "son", Nicki's go-to diss against other female rappers. The ending of the original verse made the final cut, with Nicki rapping "b*tch, you my son. Go and sit on the potty".
Listen to Nicki's alleged original verse below:
STOP THE PRESS. DJ Akademiks just playing Nicki's ORIGINAL Motorsport verse & SHE ORIGINALLY SHOUTED CARDI OUT before she felt like Cardi was taking shots at her. WOW pic.twitter.com/BcVc4gw6Ui

— Tae (@brokeboyvibe) April 12, 2018
In the alleged leaked messages between Cardi and Offset, Cardi says she felt "violated" and didn't want to do the song anymore. Offset agreed, saying he didn't like the "sit on the potty" reference.
The two bickered back and forth, as Cardi felt the Migos and their team should've had Cardi's back and made Nicki change her verse, which they later did. Cardi then told Offset her Atlantic Records team put more blame on him for the verse, as Cardi's man shouldn't have allowed the verse. Offset told Cardi to clear his name. The two continued to argue, leading to Cardi refusing to visit him in Atlanta because she didn't want the two to see each other and argue.
Offset responded by accusing her of cheating.
Read the messages HERE before they get deleted.
In her new interview with Zane Lowe, Nicki admits being hurt by Cardi pretending she didn't hear Nicki's revised verse on Motorsport when Cardi discussed the song in her interviews.
Nicki reportedly tweeted and deleted this post on changing her verse:
Nicki says Cardi should've instead sung Nicki's praises, as there are a lot of female artists who would love to be on a track with Nicki. Listen to Nicki's interview below as Nicki discusses being "hurt" by how Cardi B handled the "Motorsport" success and Quavo not having Nicki's back:

Nicki on Meek Mill and Drake's feud, and Meek's prison sentencing. Nicki says she can't badmouth the judge over Meek's sentencing as she's met the judge and spoke to her personally, saying the judge did everything Nicki asked of her:

After Nicki's interview dropped, the unbothered Cardi posted this: