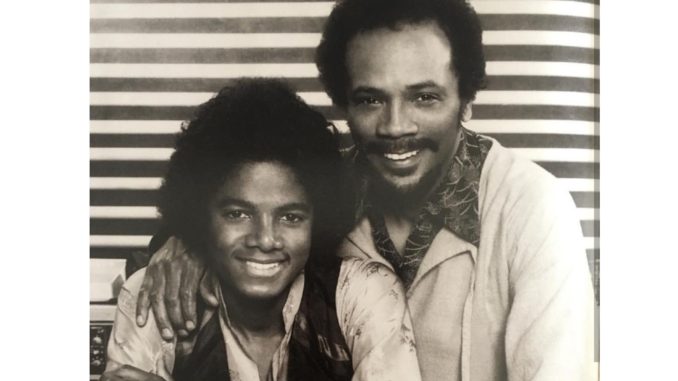 "I've got nothing to be scared of, man" – Quincy Jones.
At almost 85 years old, Quincy Jones has solidified his career, his money, and has completely ran out of f*cks to give. The music legend is responsible for some of the biggest hits behind Michael Jackson, Aretha Franklin, Celine Dion and Frank Sinatra.
With nearly 70 years in the music industry, Quincy has seen it all and now he's ready to spill. In his juicy interview with Vulture, the icon discussed Michael Jackson stealing songs and not paying musicians what he owed. He also outted some of the industry's legends— Marlon Brando, Richard Pryor, and Marvin Gaye as closeted gays.
Quincy also talked about Trump, revealing he dated Ivanka Trump 12 years ago. During his time around the White House throughout the Clinton era, Quincy learned a lot of how big companies (and their checks) influence politics. Quincy tip-toed around that subject as something he wishes he didn't know, but did discuss how the mob and mafia are tied into politics, revealing they were responsible for Kennedy's death.
Quincy also touched on industry predators (Harvey Weinstein, Bill Cosby) which rappers impress him (Kendrick Lamar, Chance The Rapper), who disappoints him (T-Pain), and how Bono and Frank Sinatra protected him from racists.
Check the excerpts below:
"All I've ever done is tell the truth" .
On Michael Jackson:
You worked with Michael Jackson more than anyone he wasn't related to. What's something people don't understand about him?
I hate to get into this publicly, but Michael stole a lot of stuff. He stole a lot of songs. [Donna Summer's] "State of IndependenceOriginally written by Vangelis and longtime Yes front man Jon Anderson, "State of Independence" was recorded by Donna Summer in 1982. Jones produced Summer's version, Michael Jackson helped out on backing vocals, and the song's central riff does sound awfully similar (albeit faster) to the iconic bass riff on Jackson's hit single "Billie Jean." It should also be noted that, last year, Jones won a lawsuit over a royalties dispute against Jackson's estate." and "Billie Jean." The notes don't lie, man. He was as Machiavellian as they come.

How so?
Greedy, man. Greedy. "Don't Stop 'Til You Get Enough" — Greg Phillinganes wrote the c sectionPhillinganes, an in-demand studio keyboardist, played on a handful of Jackson-Jones collaborations, including the 1979 album Off the Wall, from which "Don't Stop 'Til You Get Enough" comes.. Michael should've given him 10 percent of the song. Wouldn't do it.

What about outside of music? What's misunderstood about Michael?
I used to kill him about the plastic surgery, man. He'd always justify it and say it was because of some disease he had. Bullshit.

How much were his problems wrapped up with fame?
You mean with the way he looked? He had a problem with his looks because his father told him he was ugly and abused himJackson described being abused by his father Joe in a 1993 interview with Oprah, as well as in a 2003 interview with Martin Bashir. "It was really bad," he recalled during the latter.. What do you expect?
On Marlon Brando Sleeping With Closeted Gay Celebs
[Marlon] Brando The actor and Jones were longtime friends. During a down period in Jones's life, he spent time on the island in Tahiti which Brando owned. The two called each other Leroy, owing to a story recounted extremely well (one among many) in this recent GQ profile. used to go cha-cha dancing with us. He could dance his ass off. He was the most charming motherfucker you ever met. He'd fuck anything. Anything! He'd fuck a mailbox. James Baldwin. Richard Pryor. Marvin Gaye.

He slept with them? How do you know that?
[Frowns.] Come on, man. He did not give a fuck!
Continued on next page.