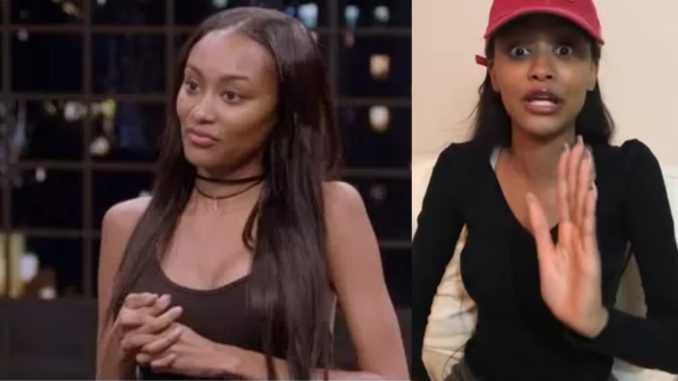 Did y'all catch Tami Roman's daughter Lyric Chanel Anderson on the new cycle of America's Next Top Model?
If you blinked, you may have missed her.
They dismissed The Fuck outta Tami's Daughter #ANTM pic.twitter.com/3EYdtIyp1W

— Rodriquez' (@IamRodriquez) January 10, 2018
damn they shut down tami daughter so damn fast she barely got out who she was ??????? #antm

— ??. (@EbtheCeleb) January 10, 2018
Apparently, the Basketball Wives spawn is not happy about the way her cut was displayed on the show. Though Lyric didn't make it as one of the finals to land a spot in the running, she says she's not happy with the way her short stint was portrayed.
Tami daughter should have just kept her mouth close not say who her parents was #antm

— ΒΑΣΙΛΙΑΣ (@JusBeinAntG33k) January 10, 2018
According to viewers, Lyric was immediately dismissed right after mentioning her famous parents.
Lmfaooo feel like they only didn't let Tami's daughter in because she has famous parents & more opportunities than dem regular gals #ANTM

— La Bronze's sis (@dosesofraye) January 10, 2018
Tami Roman daughter #ANTM pic.twitter.com/pLefuW4QFH

— momma. (@ThePrimadonna_k) January 10, 2018
Why they did Tami's daughter like that though??? ?? #ANTM pic.twitter.com/LT7nf3npQZ

— Ebangha Njang (@OfficialMzYve) January 10, 2018
In an emotional video, Lyric describes her audition with the ANTM judges and her disappointment in host Tyra Banks for not defending her.
Watch below: