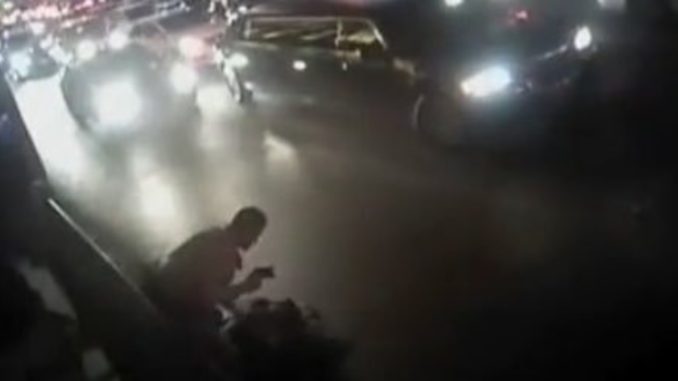 Seattle Seahawks player Michael Bennett released a statement via Twitter of the night he says he was racially profiled by Las Vegas police.
According to Bennett, he was in Vegas attending the Mayweather vs McGregor boxing match. After the fight, Bennett left to return to his hotel and says he saw several hundred people running from the sounds of gunshots.
Bennett ran and was stopped by police, who told him to drop to the ground. Bennett complied, and once on the ground, he says an officer pointed a gun at his head and told Bennett if he moved, the officer would "blow his fucking head off". Another officer put his knee into Bennett's back and placed the cuffs so tight on Bennett's wrists, his fingers went numb. Bennett repeatedly asked officers why he was being detained amongst the hundreds of people running and was told by police to "shut up".
The police held him in the back of a police car, and once they confirmed his identity to be a famous NFL star, they released Bennett without "any legitimate justification for the officers' abusive conduct", said Bennet in the statement.
Bennett he will continue to sit during the National Anthem as a form of silent protest, as Colin Kaepernick has done, because "equality doesn't live in this country". Seattle Seahawks says they support his decision, which is a far cry from how other teams respond to players who protest racism.
Equality. pic.twitter.com/NQ4pJt94AZ

— Michael Bennett (@mosesbread72) September 6, 2017
We "stand in support" of Michael Bennett.

? | https://t.co/DPDhzJmKse pic.twitter.com/DKyb21WFje

— Seattle Seahawks (@Seahawks) September 7, 2017
Although there were 126 videos from that incident, the officer who detained Bennett didn't have his bodycam turned on.
Las Vegas police refute Bennett's claim that he was racially profiled and offer a different version of Bennett's story.
According to the department's Undersheriff Kevin McMahill, the police responded to a call about "an assault and battery with a gun" at the Drai's Nightclub inside Cromwell Casino at 1:30am on August 27, 2017. The call was later updated to "an active shooter" inside the casino. When officers entered the casino floor, they were met with "thousands of people "running for cover, laying on the ground, hiding, and screaming", says McMahill.
Continued on next page.