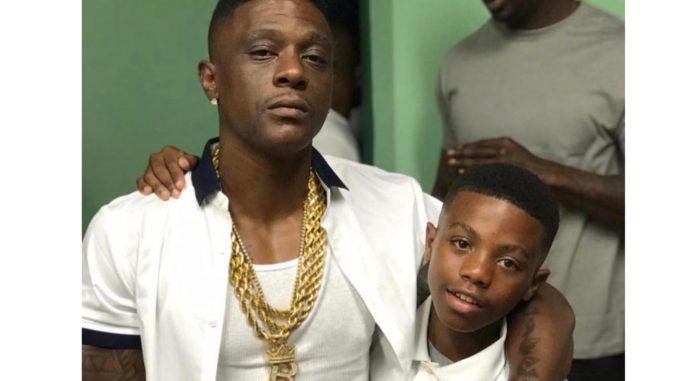 Rapper Torrence "Lil Boosie Badazz" Hatch wished his son a happy 14th birthday on Instagram and offered him a gift that some pubescent boys would dream for:
"Happy gday @tootie_raww love you son with all my heart Pops????see u tomorrow ???got a ?bag for you n a bad bitch to give u some head ?u already know how I do it Tootie Raww the mixtape dropping Oct.1st"
His son looks closer to 10, than 14, and fans didn't react with their usual laughing emojis per Boosie's batty posts. They lit up his comments, bashing the Louisiana rapper for promoting underage sex and double standards.
Would he offer his daughters sex for their birthdays?
Why are parents so quick to throw condoms at their teenage sons, but take a belt to their daughters at the mere mention of sex?
Who do you think your sons will have sex with? Each other?
Unfortunately, Boosie's beliefs aren't unaccustomed. He echoes the sentiments of many parents, especially Black parents, who think it's okay to encourage their sons' sexual behaviors, but shame their girls.
The boys grow up to become men who oversexualize young women, while the girls become women with self-esteem issues, devaluing themselves one sexual encounter at a time.
It's more than a double standard. It's an egregious and morbidly backwards way of parenting.
Boosie's response to the backlash? He laughed off his angry comment section, while saying "sex is popular at 14, 15 years old. My son already got head":

When that didn't ward off his angry followers, Boosie took to social media again. This time, the rapper says the men who are bashing him are probably absent fathers who should be writing apologies to their sons instead of paragraphs in his DM. "Y'all could never be the daddy I am".
See on next page: