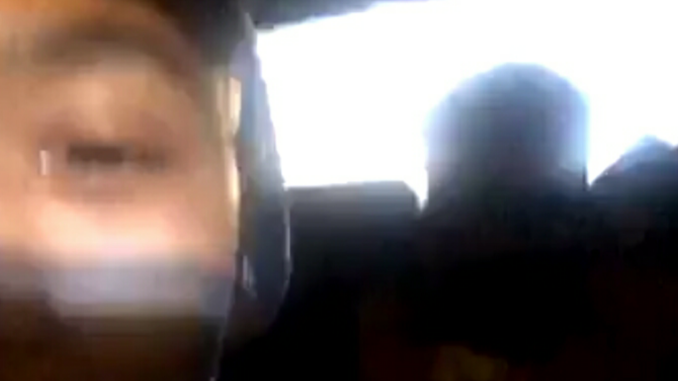 A Memphis teen posted a live video on Facebook  as he took police on a high speed chase with at least 3 of his friends.
The teen posted the video of the teens speeding in a car with police lights and sirens blazing in the background. In the video, the teens were deciding where to stop the car and where to meet up after running from police.
Turns out, the car was stolen:
Via FOX 13 Memphis:
A woman warming her car up outside her Hickory Commons home discovered the car was stolen.

Hours later, the woman told police she saw her 1998 Blue Corolla traveling down Shelby Drive.

The victim said she started trailing behind her stolen car. Finally when she got to stoplight at Lamar and Winchester, she decided to confront the teenagers.

She told police one of the passengers pointed a gun at her, while cursing at her. It was then, when she backed off.

By early Thursday morning, police patrolling the area spotted the stolen Corolla.

Police tried pulling the teens over. Instead a chase got underway. It was at this moment, the teenage driver went live on Facebook—streaming it online as more and more officers join in the chase.
Before the video ends, the teens agree to meet up at a hotel in East Memphis and the teen drops the phone, jumps out of the car and continues the police chase on foot:
"Ahhh, they are waiting on us," he was heard saying.

Seconds later, a tire on the stolen car blew out. That's when the teens decided how to ditch the car.

"We are going into the hotel, we are going to run to the hotel," the driver said on video.

The Governors Inn along Mt. Moriah is where they crashed. As the teens tried running away, they damaged a MPD cruiser. The suspects didn't get very far.

Now a 15, 16 and two 17 year-olds are being charged with auto theft. The driver will also have to answer to a charge of evading police. Hours later, and things calmed down after a chaotic night—was streamed live for the world to see.
The teen temporarily deactivated his Facebook page and the video was deleted, but not before it went viral.
The teens involved in the high speed chase were all arrested, but have been recently released. Unfortunately, they weren't the only ones who had to face the law:
"In a surprising twist, the woman whose car was stolen was cited for leaving her vehicle unattended", said FOX 13 News.  "Police told us there could be more charges tacked on against the teens."
Watch the video on the Next Page.