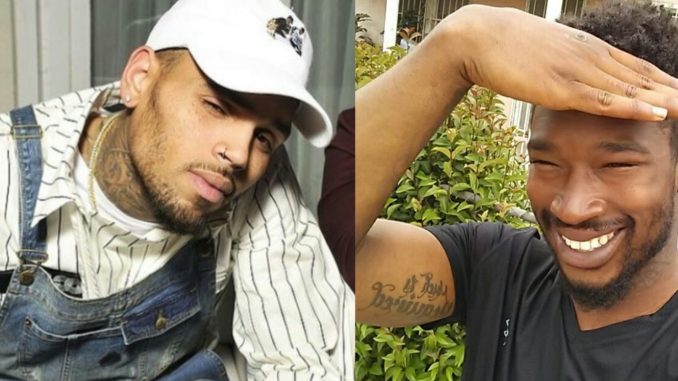 Over the last few months, Kevin McCall and Chris Brown have thrown shots at each other via social media over a business deal gone terribly wrong.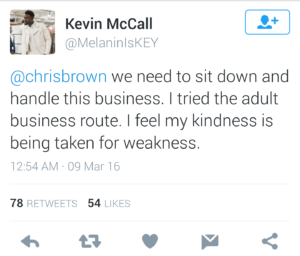 It started back in March when Kevin demanding the profits from his work with Chris, referring to C. Breezy as a thief who was stopping Kevin's money. Chris responded, saying they could handle it the "street" way. Since then, the two have exchanged insults, taking shots at each other's sexuality and finances.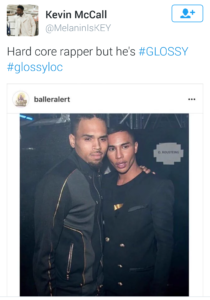 Most recently, Kevin took it a step further by posting pictures of Chris Brown and Rihanna from the February 2009 incident when Chris reportedly beat Rihanna after leaving a Grammy event.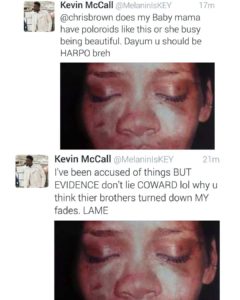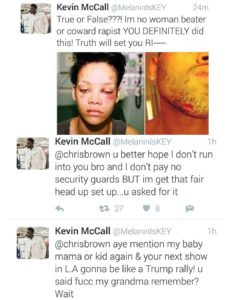 Chris referred to Kevin as a rapist and reminded Kevin that Chris still has him under contract:
For those who don't know, Kevin was accused and arrested for third degree rape of a woman he says he dated during his sophomore year as a running back for Washington State University in March 2005. He plead guilty to a lesser charge of fourth-degree assault with sexual motivation. Kevin was sentenced to 45 days in jail, two years probation, a permanent restraining order, and had to pay around $2,000 to the victim for her counseling fees.
Chris continued to drag Kevin on social media, unleashing a rant on Kevin's finances, calling him "skid row's finest":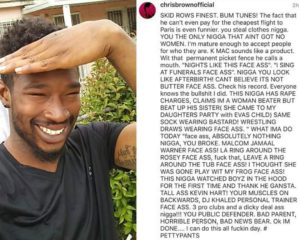 Since working with Chris, Kevin has not been in the best financial situations. He posted videos via twitter of his exchange with a police officer after Kevin's mom seemingly tried to kick Kevin out of his rundown home in California. See NEXT PAGE.