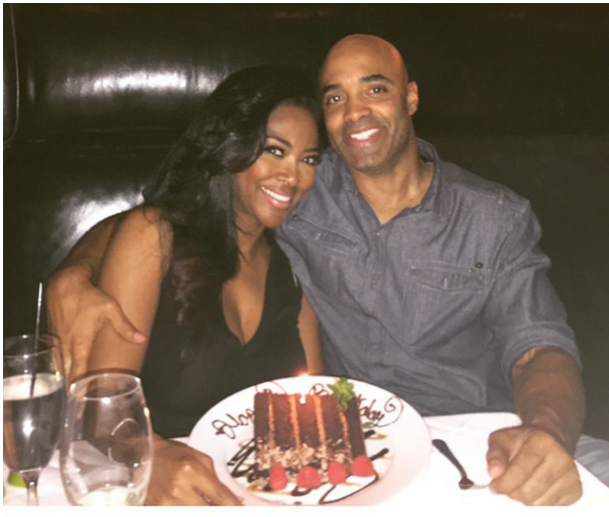 You can't win when you're dirty, honey!
While Kenya Moore was throwing shade at her cast mates all season long and spilling tea on their relationships, she forgot to check her own. James Freeman, the 43 year old owner of a commercial real estate firm, met Kenya on season 8 of The Millionaire Matchmaker dating TV show after being set up by love guru, Patti Stanger. Since meeting, Kenya has documented their relationship on her Instagram page, even referring to him as "King James":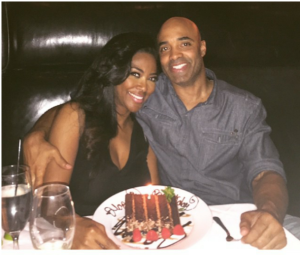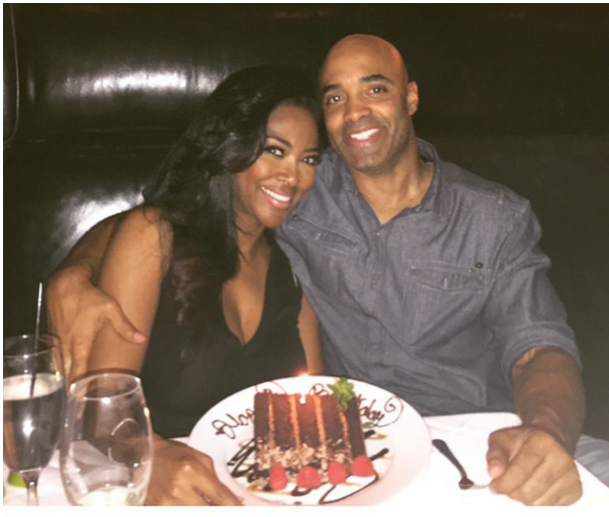 Sometimes you can spend your whole life looking for Prince Charming when a King arrives. Thank you @pattistanger and @cynthiabailey10 and my fans for your love and support and desire for my happiness.
#matchmaker #KingJames #FriendsFirst #MillionaireMatchmaker
The 44 year old actress, producer and reality star even gushed about him when asked about their relationship by Andy Cohen on the reunion of Real Housewives of Atlanta and eluded to getting engaged to Freeman on her Instagram page: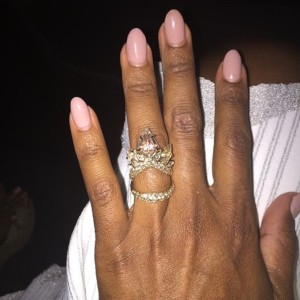 Anything can happen in Vegas
If you're a fan of the show, you know Kenya had a knack for exposing the relationships of her cast mates and blasting them for allegedly being involved with married men. So of course, her cast mates had something to say about this recent discovery. More on that below…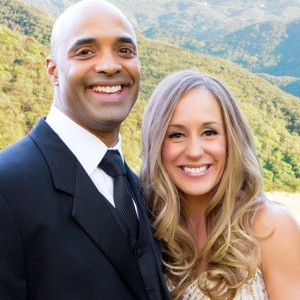 What's most surprising about this whole ordeal is HOW Kenya found out her entreprenuer boo was married: his Facebook page! James and his wife, Jaimi Gregory Freeman, both have public Facebook pages filled with wedding photos, which revealed they were married a week after James appeared on The Millionaire Matchmaker.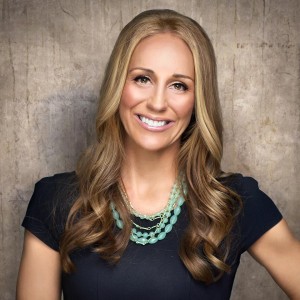 Jaimi lists herself as a "self-employed" athlete and volleyball coach while James was listed as a former college football player and Princeton graduate from Washington D.C. on the show.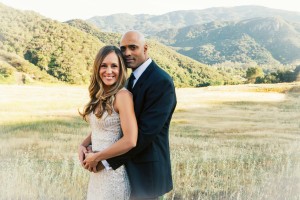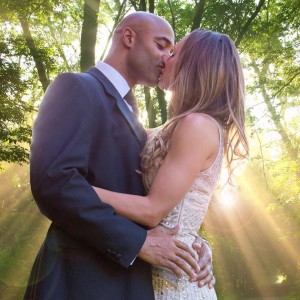 While James admitted to being married before on the show, he didn't mention being involved or engaged to someone during filming. He also had to be already engaged to his wife at the time Kenya implied James proposed to her in Vegas during the Mayweather vs Pacquiao fight. As of now, James and Jaimi are still currently married.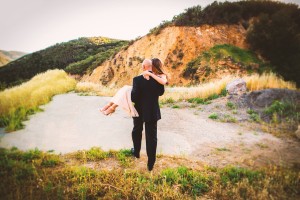 Kenya released a statement via Instagram on finding out James was married, saying she wishes him well and is still open to finding love: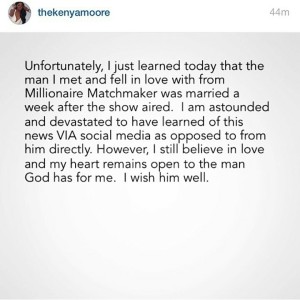 Kenya's RHOA cast mate Porsha Williams had this to say: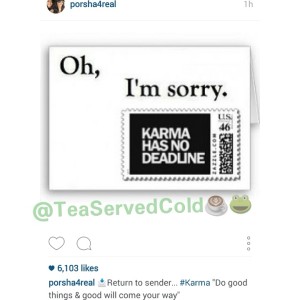 During last season's RHOA reunion, Kenya stated that "karma" caused cast mates Porsha and Phaedra Parks to lose both of their marriages. According to Porsha, that karma has been returned to sender. Ha!
Actress Vivica A. Fox who starred alongside Kenya in last season's Celebrity Apprentice bashed Kenya on Twitter once the news broke of Kenya's married boyfriend: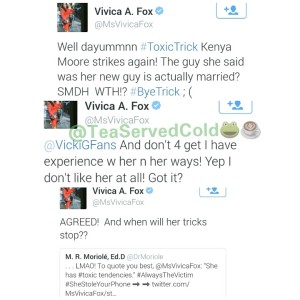 Patti Stanger has yet to respond to the news of her match-made-in -heaven-gone-wrong, but earlier this year, she stopped by the Wendy Williams Show to discuss how happy Kenya was with her match, James:
Kenya, you can't expect to be blessed when you're always involved in mess. Use the energy you spend exposing your cast mates' men into finding you a good one.
Check out the Kenya's FULL episode of season 8 Millionaire Matchmaker, episode 14 BELOW (the audio in the video makes their voices sound higher than they really are):
https://www.youtube.com/watch?v=TRotKsrl-nw