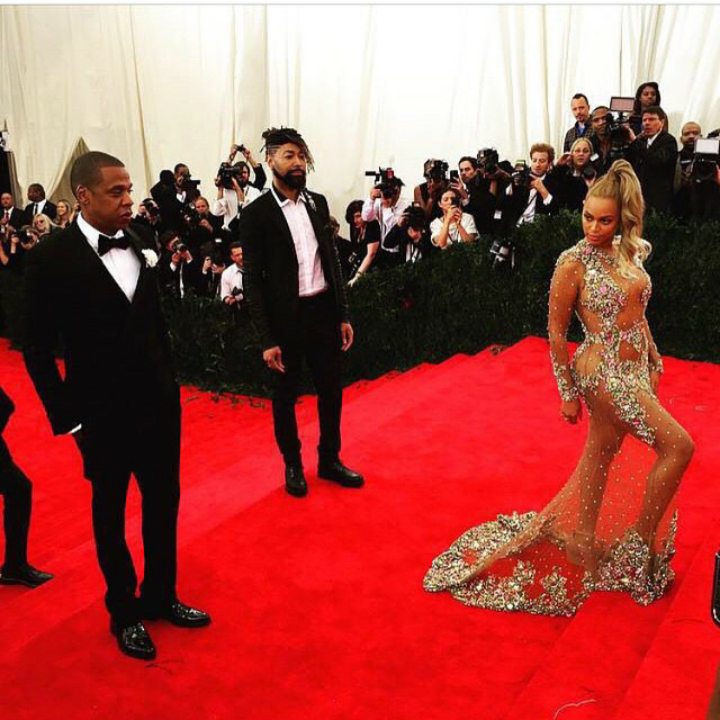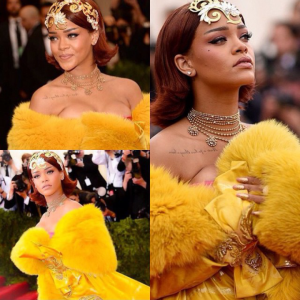 The biggest night in fashion happened yesterday in NYC. The Costume Institute Benefit Gala at the Metropolitan Museum of High Art, otherwise known as the Met Gala, is the only event where celebrities and designers alike can dress outrageously over the top and still end up on the Best Dressed list. The Met Gala is a fundraising event which also serves as the opening to the museum's annual fashion exhibit. I personally love this event because the fashion worn by guests is a mix between the Grammy's and Halloween, costume-y and couture, daring and "what the hell is she wearing?!"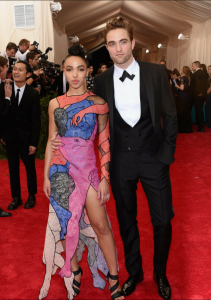 Singer FKA Twigs and actor Robert Pattinson
This annual event never fails to disappoint in the fashion category. This year's theme is "China: Through The Looking Glass", and guests were asked to dress in Chinese culture-inspired attire. Some took the theme to heart, like Sarah Jessica Parker, while others were underwhelming like Janelle Monae. Check out the photos BELOW as I give you TeaServedCold's Best Dressed, Worst Dressed, the Underwhelming and the "You Could've Stayed At Home" lists. There was also a little shade throwing during the event and memes of Rihanna's dress. For now, I present to you TeaServedCold's Best Dressed List: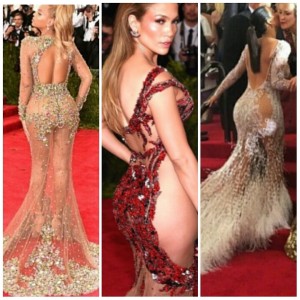 Beyonce showed up and showed OUT! Everyone was waiting on the Queen Bey's arrival and she did not disappoint.  In this little mesh number, Beyonce gave you hips, legs and thighs with her barely-there gown. She completed the look with a high off-center ponytail and her handsome husband, Jay-Z.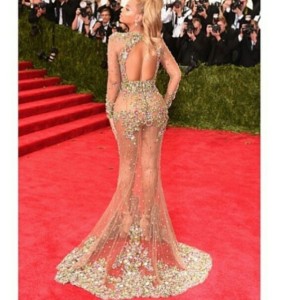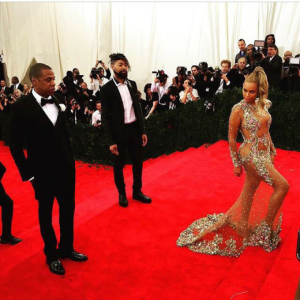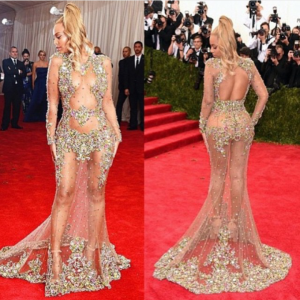 Kim Kardashian-West also followed the mesh theme with a beautiful Roberto Cavalli gown with an exaggerated train of what appears to be ostrich feathers. Even Kanye had to stand back and admire.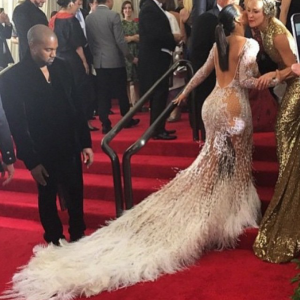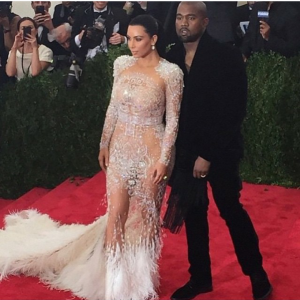 Jennifer Lopez also strolled the red carpet in a barely-there ensemble by Atelier Versace, showing off her cakes in every angle. The singer/actress/designer/American Idol judge also stuck with the Chinese theme by specially placed red dragon design covering all of her lovely lady lumps in the right places.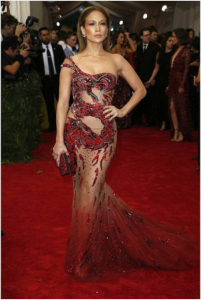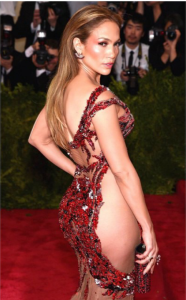 Best THEMED Dresses go to..
Rihanna and Sarah Jessica Parker. Rihanna's gown didn't make as much of an impact as her coat did. Rihanna rocked a long bright yellow fur coat with an exaggerated train that needed three handlers to help her upstairs. The coat was covered in Chinese inspired embellishments and underneath lied Rihanna's strapless red gown. Rihanna's look was designed by Guo Pei.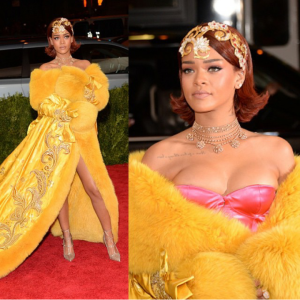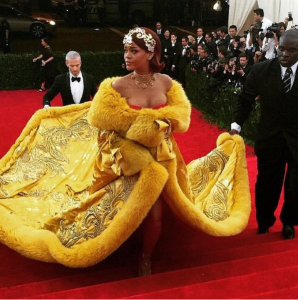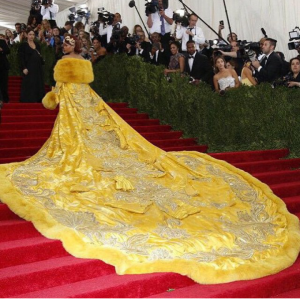 Sarah Jessica Parker definitely took home the best themed look award with her head piece alone. The Sex and The City star rocked a floral and flame inspired headdress and one shoulder black gown with red floral details.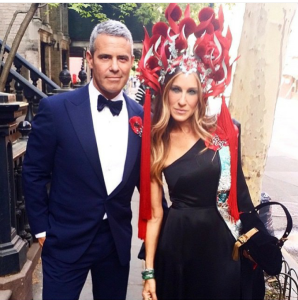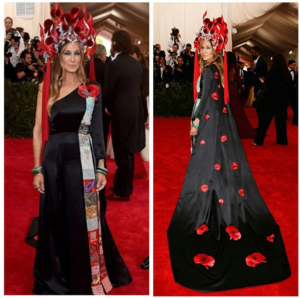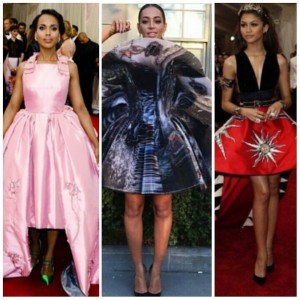 Kerry Washington-Asomugha, Zendaya Coleman and Solange Knowles-Ferguson all rocked shorter gowns to the event. Kerry Washington rocked a pink high-low number by Prada and attended the event with her NFL player hubby Nnamdi Asomugha.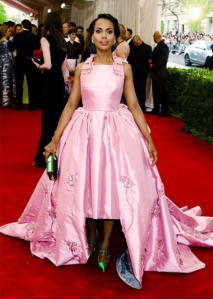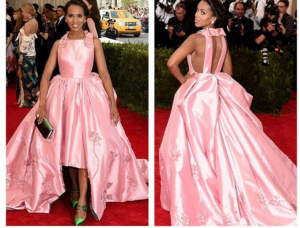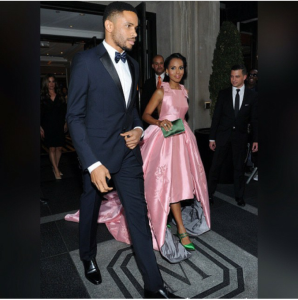 Zendaya slayed in this Fausto Puglisi mini dress with an exaggerated train. Her pose alone says "I came. I slayed. I conquered".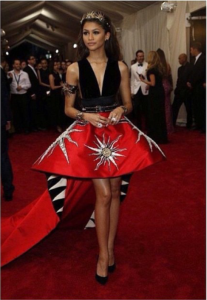 Solange definitely went more artsy and couture this time around with a mini-dress designed by Giles Deacon. Fans noted she wouldn't be able to fight in this dress as she did last year. LOL!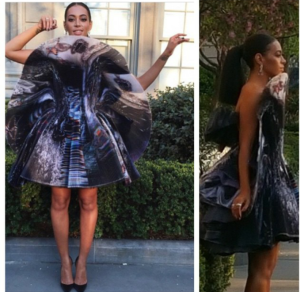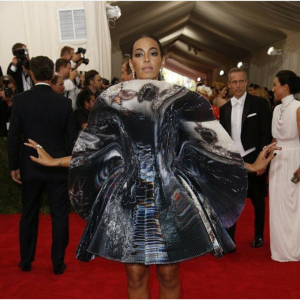 The supermodels also came and slayed this year with Naomi Campbell rocking Burberry Prorsum and Kendall Jenner in Calvin Klein Collection.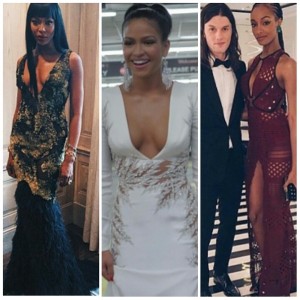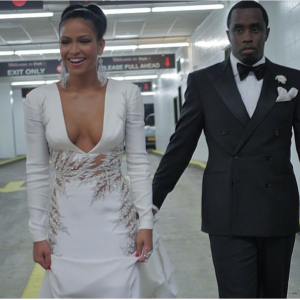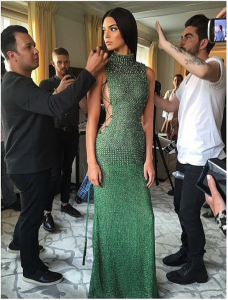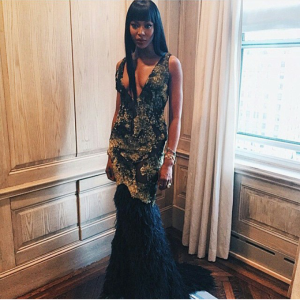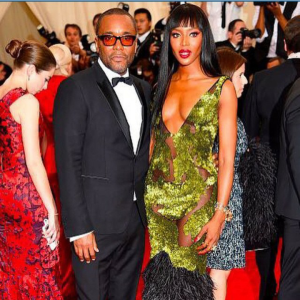 Jourdan Dunn was one of my favorites. Not just for this maroon cut-out number by Burberry, but because of her hair. I love seeing Black hairstyles on the red carpet and Jourdan looked amazing in her cornrows.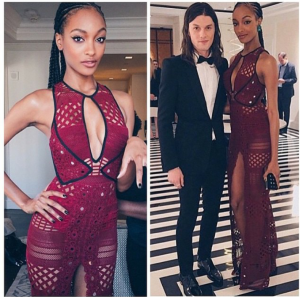 The pop stars were a bit underwhelming, with many of them appearing in more tame looks going for more fashionable, less costume-y looks. Katy Perry (pictured with designer Jeremy Scott) and Madonna both rocked Moschino gowns.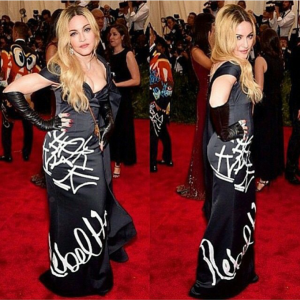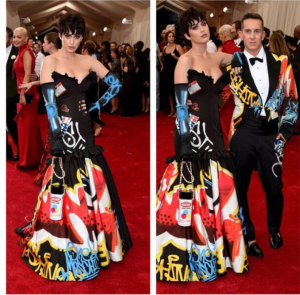 Miley Cyrus in Alexander Wang
Selena Gomez in Vera Wang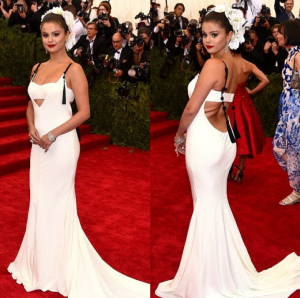 Rita Ora in Tom Ford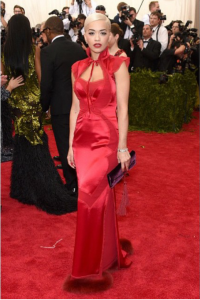 Dressed in Balenciaga, Lady Gaga was right at home at this event, as everything she wears looks as if it should be held on display in the Museum of High Art.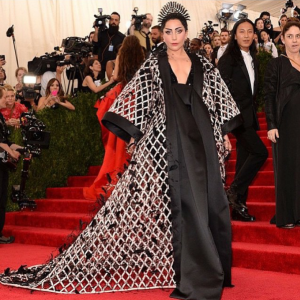 Justin Bieber outdressed his female counterparts in this amazing gold and black Balmain blazer paired with a black button down shirt and pants.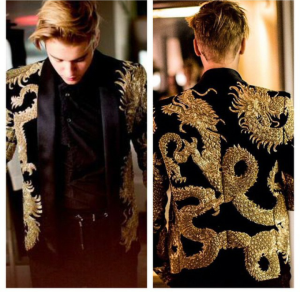 The Most UNDERWHELMING Award goes to actresses Taraji P. Henson and Gabrielle Union. Again, this is the Met Gala, the one event where you're SUPPOSED to dress in daring, bold, fearless fashions and these two ladies looked like bridesmaids. Gabrielle rocked a long sleeved maroon number with bodice embellishments and completed the look with her baller husband D. Wade.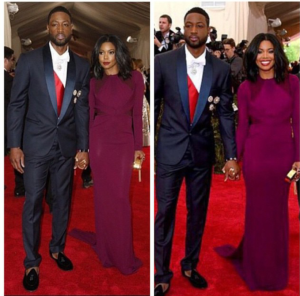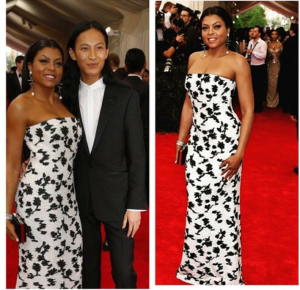 Taraji rocked a strapless black and white Balenciaga number. Both of their red carpet styles are so lackluster, this would have been the perfect time to experiment with different looks, but oh well…
R&B soul singer Alicia Keys rocked a right-off-the-runway bralette covered with a blazer and high-waisted tulle skirt combo by Jean Paul Gaultier. It's not as jaw dropping as the other fashions we've seen, but it's more daring than her usual style. Plus, she looks great in this look!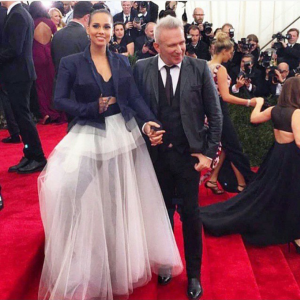 I'm giving WORST Dressed to neo-soul/electric-funk singer Janelle Monae. We've established by now the standards and expectations of the Met Gala fashions and Janelle Monae was the most disappointing. She's recently stepped out of her usual black and white tuxedo look and added pops of color, skirts, oversized hats and eye-catching patterns to her everyday looks and I was excited to see what she was going to pull out this year. Her music is more exciting than this outfit. The carpet is more exciting. It looks like she just draped a cape over a regular shirt and skirt set. Janelle, you could've done so much better than this.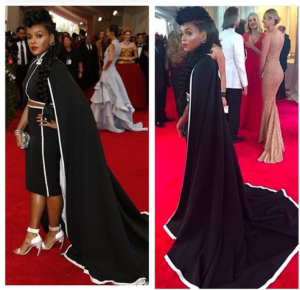 Celebs also mixed and mingled once inside the museum and we get to live vicariously through them via their Met Gala selfies: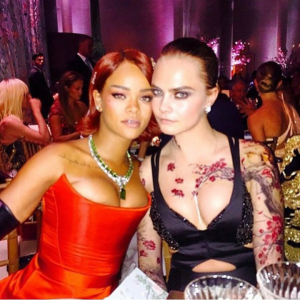 Rihanna and supermodel Cara Delevingne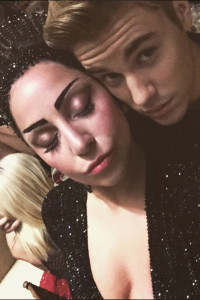 Justin Bieber and Lady Gaga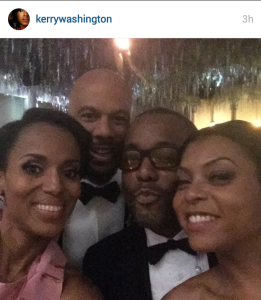 Kerry, Common, Lee Daniels and Taraji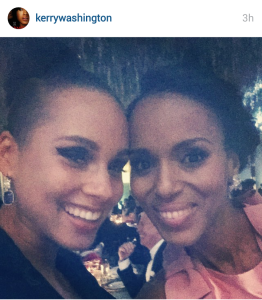 Kerry and Alicia Keys
There was also a little SHADE throwing during the event. While most of us oohed and awed over Kim Kardashian-West amazing ensemble, fans noted how closely her dress resembled a gown worn by Beyonce at the Met Gala three years ago. We compared the two dresses. YOU be the judge: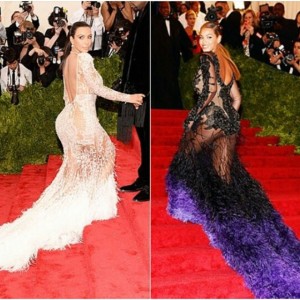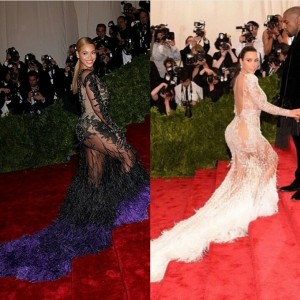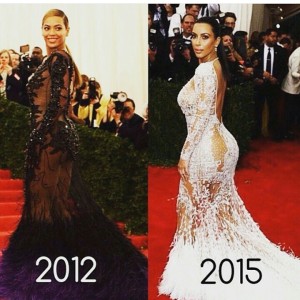 Kim responded by saying legendary singer and  actress, Cher, was her inspiration for her dress. She claims Cher wore this dress at the first ever Met Gala and cites this dress as her inspiration, not Beyonce.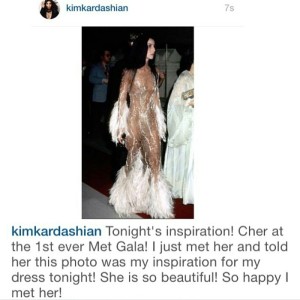 Beyonce got caught in a little more shade throwing by Jelena Karleusha. If you recall, Jelena is the European pop star who accused Kim Kardashian of stealing her look a few months ago when Kim dyed her hair blond. Apparently, this chick thinks she's the originator of every hair trend because she came for Beyonce with this shady post. While Bey was getting praise for her off-center pony by fashion bloggers, Jelena posted this pic to remind followers she rocked this look 3 years ago.
Of course, the BeyHive wasn't going to let her slide with that one. They attacked Jelena in her comments and commented bee emojis for the Queen Bey. Back in 2006, Beyonce rocked the same look, only plaited for her "Upgrade U" music video. Sorry, Jelena. You weren't the first. The night wouldn't be complete without some Met Gala fashion memes: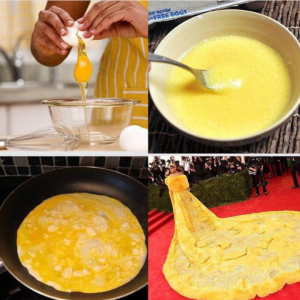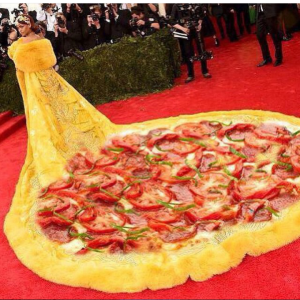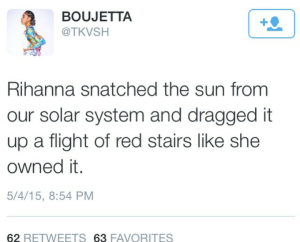 Who was your BEST and WORST Dressed? Think I left somebody out? Let me know BELOW OR ON TeaServedCold's Instagram page where I also post pics and opinions of the red carpet looks. Check out more pics below from the 2015 Met Gala BELOW:
Picture Credit: Instagram