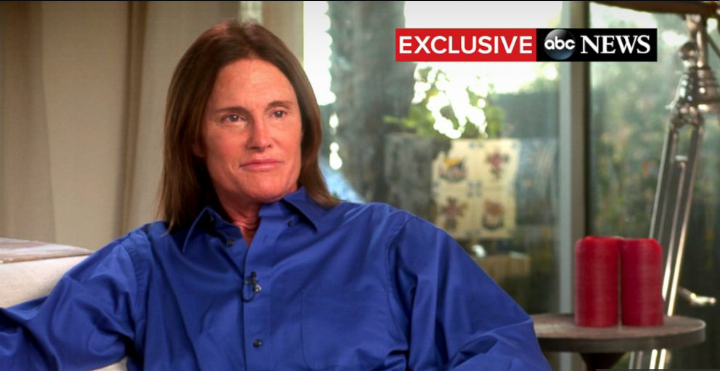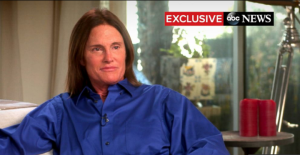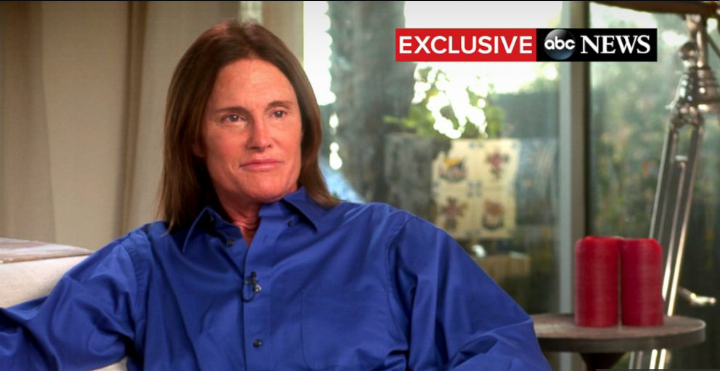 If you missed the Bruce Jenner Interview with ABC's Diane Sawyer, you missed the shock of the year! 16.9 million viewers tuned in to hear Bruce confirm the rumor we've all been hearing: he's transitioning into a woman. The former Olympic athlete and father of ten admitted in the interview he's struggled with gender identity since he was a child, even sneaking and dressing up in his sister's clothes when he was 8 years old. He also revealed the cause behind the change in his facial features back in the 80's. While most believe it was bad plastic surgery, he admitted he'd began taking female hormones  in 1984, which not only made his face more feminine, but also gave him a 36B bust size.
Bruce stated he told all 3 of his ex-wives of his gender identity issues and yearning to become a woman during each marriage and explained how he told his children, his sister, and his 89 year old Bible-toting conservative mother, all of whom sat down with ABC for separate interviews. We've got the highlights BELOW as well as celebrity reactions to the news, which Kardashian kid took the news the hardest and whether Bruce will date men or women after his transition. We've also got video of one celeb who doesn't agree with Bruce's choice of transitioning and the day Bruce contemplated suicide after what he calls his worst paparazzi run in…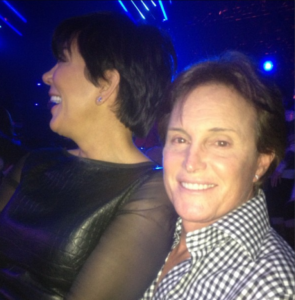 It's gonna be an emotional roller coaster, but somehow, I'll get through it…
Before the interview begins, Bruce is obviously emotional and seems to be second guessing the interview. He welcomes Diane with a hug and then somberly sits in silence while the crew members set up equipment. When Diane asks if he's ready, Bruce breaks down:
I've been thinking about this day forever and… what I should do with my life. 'How do I tell my story? How do I tell people what I've been through?' and today is that day. I need tissues [starts crying]. But today's the day. It's gonna be tough. I've been honest with myself and obviously with my family, everyone involved. It's been tough.

Diane Sawyer: Bruce is____

Bruce Jenner: Bruce is -­­- I've always been pretty confused. My brain is much more female than it is male. It's hard for people to understand, but that's what my soul is. Bruce has always been living a lie about who he is and I can't do that any longer.

DS: Are you a woman?

BJ: Yes. For all intents and purposes, I am a woman. People look at me differently and see this big macho male, but my heart and everything I do in life, it is a part of me; that female side is a part of me and that's very hard for Bruce Jenner to say because I don't want to disappoint people.
Those people he refers to are not just his friends and family. To millions of people, Jenner was the first American hero after winning the Olympics in 1976. He went from an insurance salesman to the first superstar athlete with endorsement deals, action figures, TV appearances, and even documentaries following his post-Olympics life. He was named the Greatest Athlete of in the World, but when Jenner looks at pictures of himself the day he won the Olympics, he doesn't see a hero. He sees a liar.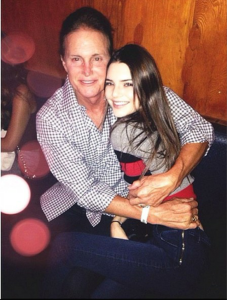 "This isn't an issue you can walk away from. You can't take 2 aspirin, get plenty of sleep and you're gonna be just fine. It doesn't work like that."
Jenner revealed at 8 years old, he snuck into his older sister's room when no one was around and tried on her dresses. He then got his mother's scarf and covered his short boyish hair to appear more feminine. He would later involve himself in mansculine activities to silence the woman inside of him yearning to be heard. Those mansculine activities included becoming the MVP in football, basketball, and track while in high school and later winning the Olympics.
Despite proving his masculinity through these events, marrying three times and having ten children, the woman inside of Bruce still yearned to be heard. When asked why at age sixty-five Bruce decides to come out to the world as transgender, Jenner says:
Because I can't hold this curtain any longer. Bruce lives a lie. 'She' is not a lie. I can't do it anymore. I couldn't take the walls closing in on me. If I die, I'd be so mad at myself that I didn't explore that other side of me. I don't want that to happen.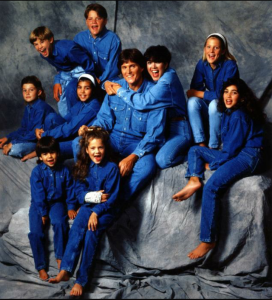 DS: Were you terrified to tell your children?

BJ: Yes, every one of them. Those are the only ones I'm concerned with. I can't let myself hurt them. How do I do this? How do I do this without hurting them? I try to explain to them 'as much of your upbringing was HER as much as the HE side. I'll always be there. I'm not going anywhere'.
Bruce also stated his daughters caught him dressed as a woman over the years, but never said anything. Kim walked in on Jenner once while he was in a dress. According to Bruce, she stared in silence, turned around, got in her car and drove away, refusing to answer Bruce's telephone calls afterwards. His youngest daughters, Kendall and Kylie caught him on a hidden camera stored in Kendall's room. Kendall thought Kylie was stealing clothes out of her room so she planted a hidden camera to catch her. Bruce entered her room to look at himself dressed as a woman in Kendall's mirror. He says she had the only full length mirror in the house and the girls caught him on the hidden camera in Kendall's room.
On How He Told His Ex-Wives During Each Marriage: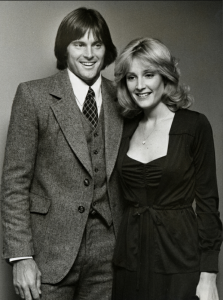 BJ: I would have to say Chrystie [Scott, first wife], was the first to know. I didn't go heavily into it back then.  I said 'these are my issues. This is what I deal with. I do a little cross-dressing. I do a little this, a little that. It's gonna be fine, we'll work all that stuff out'.  I had bigger issues than cross-dressing and like most women, [Chrystie says], 'oh, I can fix that'. Most women think like that, nurturing.

Their marriage later ended, not due to his gender identity issues, but because Jenner says he was restless in the marriage.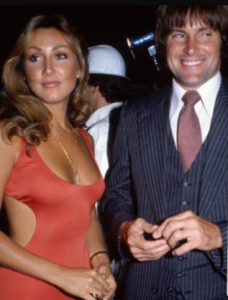 For Linda Thompson [his second wife], she says it was a dream marriage and then one day, he walks into the room. He is suffering, distraught, and tells her about an ongoing conflict inside. He thinks he's a woman, not sure he can hold together the man she married.
After his second marriage failed, Jenner is approaching 40 years old. He's fighting depression and his income is falling out. After talking with therapists, they convince him to stop fighting his issues and begin transitioning into a woman. In 1984, he begins taking hormones and for the next 5 years, his face and body begins to change. Then, he meets his third wife, Kris Kardashian and reveals to her he's been on hormones to transition into a woman. She's not okay with it and he later stopped taking the hormones for the sake of his family. Twenty-two years into the marriage with Kris, Jenner decides he can no longer hide his desire to become a woman and they decide to separate.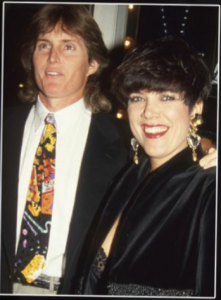 DS: Was Kris angry at you for it?

BJ: It was tough on her. Kris is a good woman, I got no complaints with her. She's a good person, [but] honestly, if she would've been good with it and understanding, we'd probably still be together.
While Jenner's four older children Burt, Brandon, Brody and Casey Jenner were all understanding of his transition, his Kardashian stepchildren weren't as easy going. Khloe Kardashian took it the hardest, Jenner reveals. After losing her biological father to cancer and her husband to alleged drug habits, Khloe felt like she was losing yet another male figure in her life. Kourtney Kardashian, being a mother of three, didn't want her young children around Bruce as it would confuse them.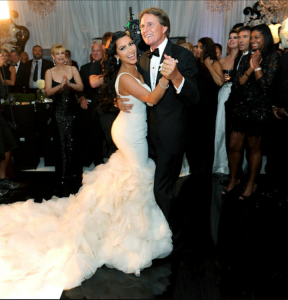 Kim Kardashian-West had a hard time as well, until her husband Kanye West helped her understand why it's important for Bruce to live in his truth. According to Jenner, Kanye said to Kim:
'I can be married to the most beautiful woman in the world, and I am. I can have the most beautiful daughter in the world. I have that, but I am nothing if I cannot be myself. If I cannot be true to myself, none of that matters…'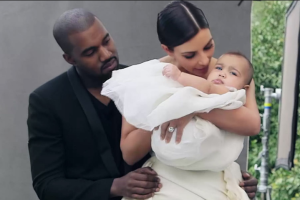 On Keeping the Biggest Secret While Being On a Reality Show:

BJ: We'd done 425 episodes, I think. Over almost 8 years now and the entire run, I kept thinking to myself, 'the one true story in the family was the one I was hiding and nobody knew about it. The one thing that could really make a difference in people's lives was right here in my soul and I could not tell that story'.

On Contemplating SUICIDE:

A year and a half ago, the news broke of Bruce's transition due to someone leaking Bruce's doctor's appointment to shave down his Adam's apple. The paparazzi were there waiting, taunting him. Bruce went back to his Malibu home and paced up and down the halls, asking himself 'what would be the easiest thing to do right now? Go in my room, get my gun and BOOM[kills himself]. Then I thought, No, I can't do that. I want to know how this story ends'.

On His Sexuality:

DS: Are you gay?

BJ: No, I'm not gay. As far as I know, I'm heterosexual. I've never been with a guy. I've always been married raising kids. [Sexuality and gender] are two different things here. Sexuality is who you are personally attracted to, who turns you on. Gender identity has to do with who you are and your soul and who you identify with inside.
Bruce says during his transition, he prefers to be labeled asexual, because he won't be dating either of the sexes. When asked if he plans to get sexual reassignment surgery, which would remove his penis and give him a vagina, Bruce says if he does, it will be much later down the line. Right now, he's more focused on the mental changes of the transition rather than the physical.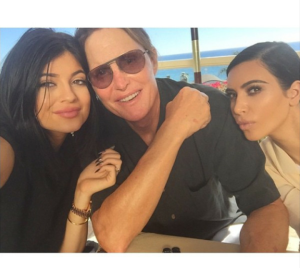 Plans for the Future:

BJ: I've got my health. I've got my family. I've got my grandkids now. I'm actually really excited about what the future could do, about what I could do to really bring some good into the world.

What I'm doing is going to change the world. It's going to do some good. I firmly believe that. We're gonna make a difference in the world with what we're doing. If the Kardashian show gave me a foot hole to go do it, I'm all for it. I'm grateful for the show.

His Message to the Public:

DS: When you think of me, please be___

BJ: Open minded and open heart. I'm not this bad person, I'm just doing what I have to do.
After the interview aired, Bruce's family and friends all gave their support to Bruce for being brave enough to speak publicly about his transition, but his 89 year old mother gave the sweetest response ever, saying:
'When I saw you standing on that podium in Montreal (the day he won the Olympics), I didn't think I could be more proud of you in that moment, but I'm learning I can be. I love you'.
Jenner's ten children as well as celebrities all showed their support for Bruce by posting positive messages via their social media pages. One celebrity however didn't share the same sentiments as everyone else. See who BELOW:
During a red carpet interview, talk show host Steve Harvey said he didn't find it "brave" for Bruce to selfishly destroy his family in seek of his own happiness:
Though some will disagree, I'm all for Bruce living in his truth. The worst thing he could do is to die a fraud, never exploring the side that yearned for six decades to come out. I'm proud of you, Big Guy.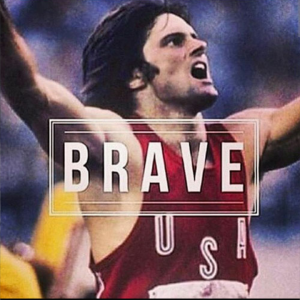 Picture Credit: The Kardashian & Jenner family Instagram pages.