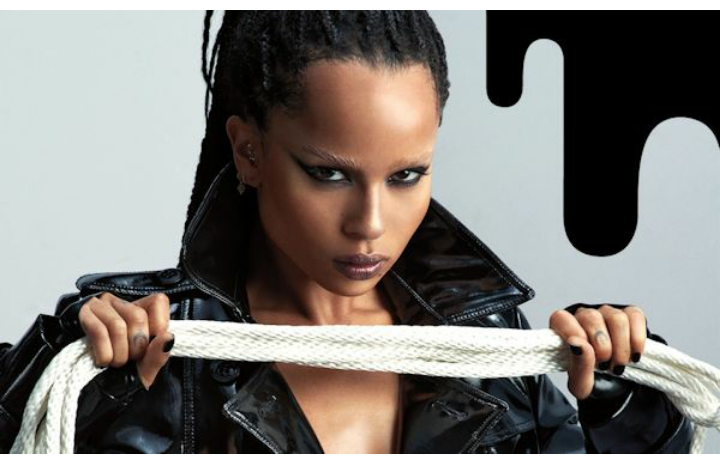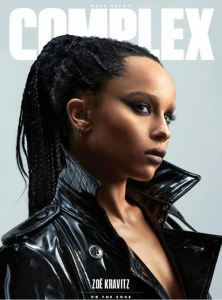 From touring with Miley Cyrus and Lily Allen, to being seen on the front rows of NYFW and snuggled up with Drake, it's amazing Zoe Kravitz has managed to fly under the radar. The gorgeous actress and one-third of the rock/R&B band Lolawolf is featured in the April issue of Complex Magazine and the spread is as marvelous as she is. The mag went for an edgy dominatrix theme to match Zoe's edgy style and personality, and to mimic the type of roles she takes on. Zoe has become the go-to girl for kickass roles, having starred in X-Men: First Class, After Earth and Divergent.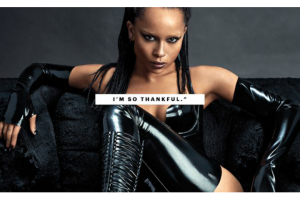 Zoe Kravitz also sat down with Complex to discuss dating rumors, her relationship with her parents, and insecurities stemming from growing up with a beautiful mother and a father who had a thing for supermodels. She also discusses having to deal with eating disorders in her teens and having to revisit her demons to play an anorexic in the film The Road Within…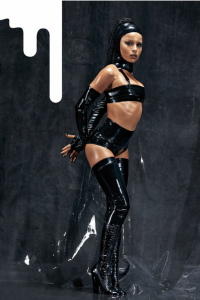 Relationship With Her Parents:

She says she and her mom are like sisters and that they're all—Lisa, Lenny, and Zoë—very similar. "I don't think anyone knows how funny we are," she says. "It's like this whole thing where people think we're so cool and hippie and wear velvet"—which, to her credit, is a hilariously astute observation of what people might think Growing Up Kravitz is like—"but we're the fucking nerdiest people."

Having an Eating Disorder:

"I had a really hard time when I was 16, 17, 18. I started with the eating disorder in high school….Just [a hard time] loving myself."

In high school, she became anorexic and bulimic—"awful diseases" she'd battle to various degrees until the last two or so years. "I think it was part of being a woman [in Hollywood], and being surrounded by [fame]," she explains, before backtracking: "I don't think it was about the fame, but I think it was definitely about being around that world, seeing that world. I felt pressured."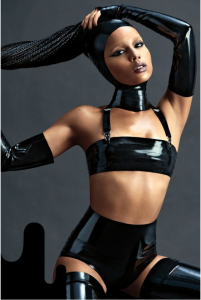 Having to Play an Anorexic in the Film The Road Within:

"My parents got really scared for me to go back down that road," she says, recalling when her mother burst into tears after she came back from set one time.

Kravitz couldn't see how much weight she'd lost. She wasn't satisfied with her frail 90-pound frame either. "It was fucked up, man," she sighs. "You could see my rib cage. I was just trying to lose more weight for the film but I couldn't see: You're there. Stop. It was scary." She got sick after filming wrapped. She didn't get her period regularly because she was too malnourished. Her immune system shut down, her thyroid was thrown off. Recovering from the brutal shoot, she wasn't receptive to praises from friends who were happy she was gaining weight, either. "I was like, 'I don't want to gain weight,' as opposed to being like, 'Good, I'm a normal human being.'"

"It made me not only confront my demons, but also realize and accept an insecurity that's still there, and [that it's] easy to fall back into that pattern," she explains, even if she's doing better these days. "I feel like something has left my body, like some part of me is gone now, something that was making me so insecure. And it feels amazing."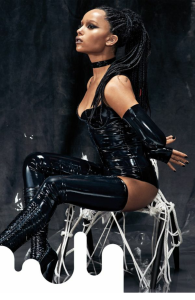 Insecurities from Growing Up with Famous Parents:

When trying to explain her insecurities, Kravitz cites a combination of systematic ideas about beauty and—yes—her upbringing. She says women are taught it's not OK to think they're beautiful: "It's either: you're conceited, or insecure, as opposed to just loving yourself." She was also surrounded by "a lot of beautiful people," and of course, her mother.

"My mother's a…," she says, hesitating, "…beautiful woman, and I think, in some way, I felt intimidated by that sometimes." Also: "My dad dated a lot of supermodels," she laughs.

"Everyone sees themselves in some weird, obscure way." She says her mom also struggles with her own insecurities. "People meet her and don't know what to do with themselves, but"—and here, she takes care to emphasize with conviction—"she doesn't know how fucking cool she is. Or what she means to the rest of the world."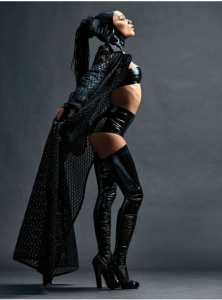 The Benefits of Having Famous Parents:

"It was very easy for me to get an agent when I wanted to act, for obvious reasons," she says earnestly. "And I don't know, maybe it's not because they thought I was talented—I wasn't the most talented girl in the world when I was 15. It was because my parents were famous, and they were like, 'Cool, maybe we can make money off of that.' " She'll admit that things were handed to her. "I know so many talented people that do the most amazing things but they need to work at a restaurant. I don't. I can make all the art I want and get paid to do it—it's fucking crazy. I'm so thankful for it."

On Her Love Life & Rumors of Dating Drake:

Kravitz says she and Drake ("Aubrey," to her) are "very good friends. I'm very flirtatious, [but] he's family to me. He's a really, really awesome dude." She says they became "really close" in the last few years and hang out often—with Kravitz's friends—when he's in New York. "We inspire each other," she adds. "We play each other music." Drake, for what it's worth, has gone on record as saying, "Zoë Kravitz is like one of my favorite people in the world."

She isn't dating anyone right now because "no one ever asks me out." The explanation sounds both reasonable and totally absurd: "When I tend to meet a guy who's cool and is into me they're like, 'You're so cool that I can't handle it.' " But she concludes she'd rather be single and too cool to handle than simply "some chick."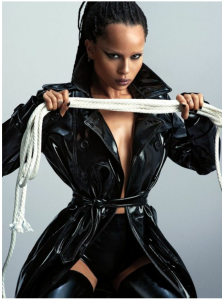 On Instagram Followers Who Trolls Celebrities' Pages:

"It's so crazy, the things people say on Instagram," she says. "It's a dark hole. I try not to look at it anymore. The comments, like: I'm ugly, and I should kill myself. And then there's like…people just…there's nothing you could post."

To a degree, she claims to understand the reflexive hate: "There's this like 'American Dream'—you want this life. It's dangled in front of you. It's this thing: You can't have this, but look how cool it is," she says. "I totally get it. I'd probably have a certain amount of anger toward that [if I was in that position]."

On If She Could Give Up Fame One Day:

"Totally," she says. "I'm so into what I'm doing right now, but I'm not going to do this forever." She'd like to do photography and set design—things she's passionate about. Or farm. "[Farmers] are the heroes of America," she says. She envisions herself moving to the farm in upstate New York she visited on a field trip when she was a kid, or to Mexico, or farming communities around the world. "I'd like to take a year and do that," she says. "I think it'd be great."
You can read the entire interview at Complex Mag and catch Zoe staring in Divergent, available on Blu-ray now.
Picture Credit: Complex Mgazine